We Can't Wait to Meet You!
Your success story starts now. Our tight-knit MatSE family is beyond excited for your arrival on-campus. We can't wait to share the exciting world of material science and engineering. In the next four years, you'll learn all the tools necessary to address real-world problems and make materials that marvel. Before you arrive, explore words of wisdom from a handful of our MatSE faculty members.

We Can't Wait to See You Tackle Real-World Challenges
"Hello! I am a video game playing, DnD adventuring, model train layout building nerd! Oh, and I also teach materials science and engineering at your future college! Our MatSE students tackle challenging problems, and I am excited to see what you will accomplish. The world of MatSE is ever-changing. The innovations possible in the next four years are truly amazing. Students in my class have been investigating and designing new ways to make materials and products more environmentally sustainable. I am energized by our students, and I am looking forward to seeing you in the fall! Go Illini!" — Matt Goodman, senior lecturer

We'll Be Writing About Your Accomplishments Soon
"Hello! My name is Jessica Krogstad, and I'm an associate professor in MatSE and an alumna of this department as well. Welcoming our new class of MatSE students is one of my favorite times of the year! I love chatting with our new students about their interests, what they're excited to learn about and how they plan to make an impact on the world. Our MatSE students truly help change the world. Many of our alumni have leveraged their experiences at Illinois to become leaders, like Matt Frey at 3M who is advancing new materials for next-generation fuel cells and a more sustainable energy economy; or Arielle Gross, who has served on the United Nation's Women's Global Innovation Coalition for Change. After a few short years in MatSE at Illinois, I'm sure I'll be writing about your accomplishments next! I can't wait to see what you'll achieve!" — Jessica Krogstad, assistant professor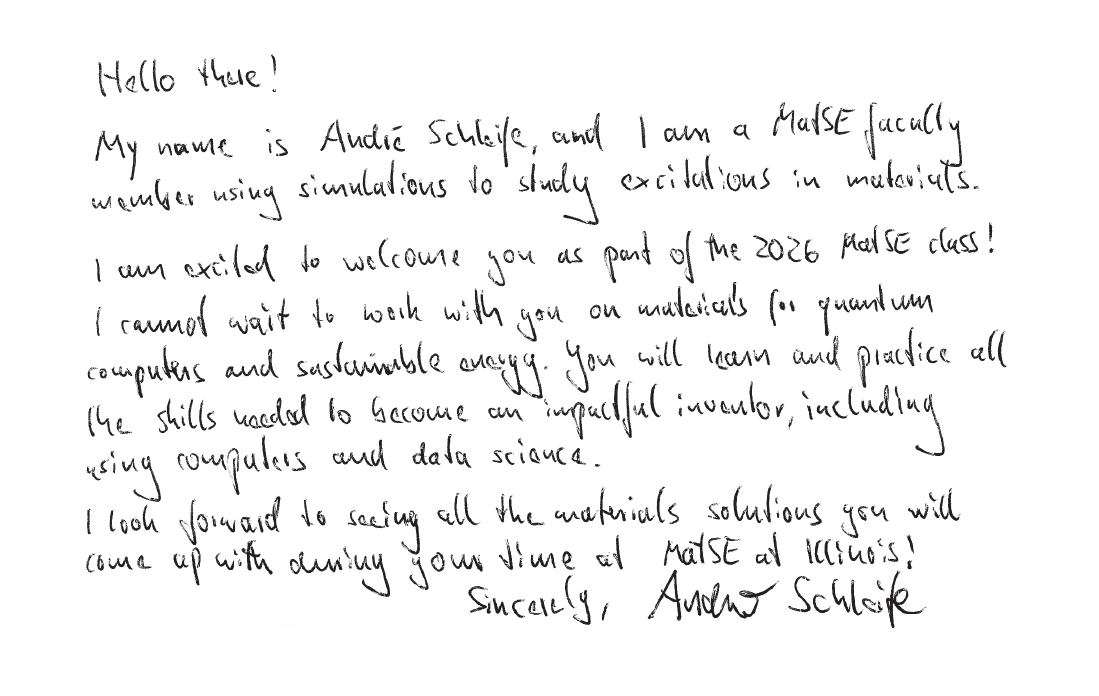 We're Ready to Equip You With All the Skills to Become an Impactful Inventor
"Hello there! My name is Andre Schleife, and I am a MatSE faculty member using simulations to study excitalious in materials. I am excited to welcome you as part of the 2026 MatSE Class! I cannot wait to work with you on materials for quantum computers and sustainable energy. You will learn and practice all the skills needed to become an impactful inventor, including using computers and data science. I look forward to seeing all the materials solutions you will come up with during your time at MatSE at Illinois! — André Schleife, associate professor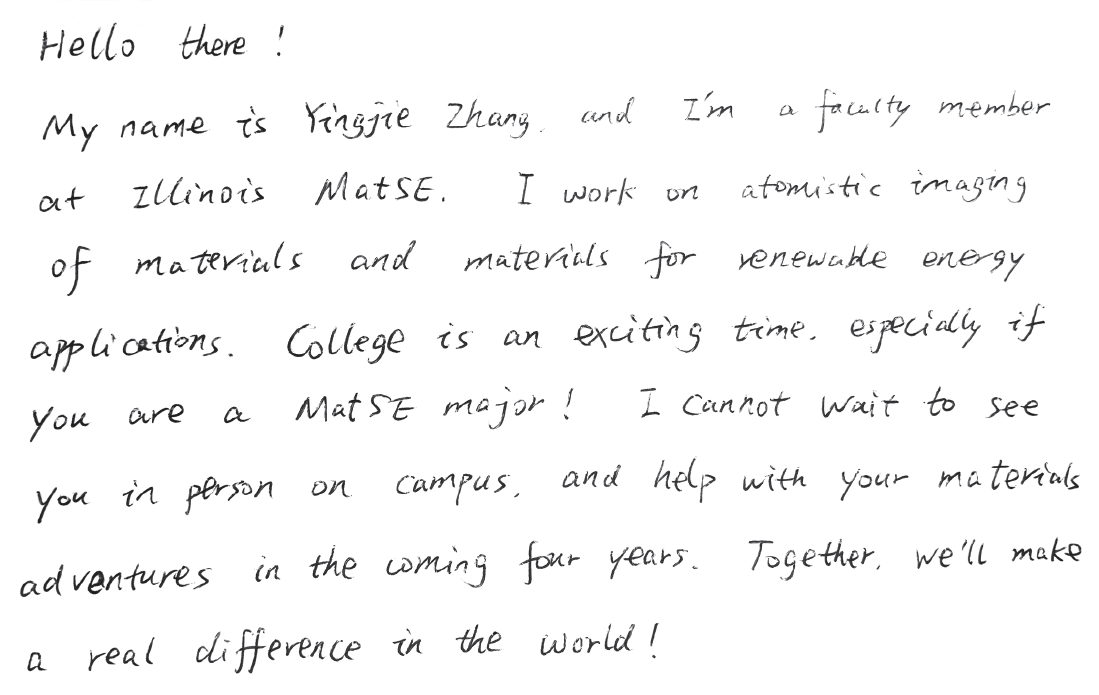 We're Excited to See You Become a Materials Difference-Maker
"Hello there! My name is Yingjie Zhang, and I'm a faculty member at Illinois MatSE. I work on atomistic imaging of materials and materials for renewable energy applications. College is an exciting time, especially if you are a MatSE major! I cannot wait to see you in-person on campus and help you with your materials adventures in the coming four years. Together, we'll make a real difference in the world!" — Yingjie Zhang, assistant professor
Get Ready for Life at MatSE
Wondering what your first year at MatSE will look like? Check out a welcome note from one of our introductory MSE 182 course professors, follow our tight-knit student organizations on Instagram, hear from your peers and learn how you can start making meaningful connections at Illinois ahead of the fall semester.