Blog
An 'incredible,
tight-knit' community
is waiting for you
Shivam Tailor is president of MatSE's premiere student organization Material Advantage. Read the junior's story to see the bonds he's helped establish within this crew. Check out the mentorship opportunities you'll be able to unlock when you join Material Advantage.
Written by Shivam Tailor
My name is Shivam Tailor, and I am a rising junior majoring in materials science and engineering at the University of Illinois Urbana-Champaign.
Before arriving on campus, I was extremely anxious. Being away from home, living on my own, and meeting tons of new people a midst a pandemic was overwhelming. On top of everything, I continuously wondered what my purpose in college would be.
My Engineering 100 class was my first introduction to the MatSE community. After our first class, one of my ENG 100 peers suggested we grab bubble tea on Green Street. It turned out that almost none of us had tried bubble tea before, so we all ordered our drinks and spent hours talking on the quad.
We bonded over why we chose MatSE, what excites us about freshman year, and our newly found love for tapioca. Hanging out with other MatSE students was the remedy to the nerves I felt before coming to college.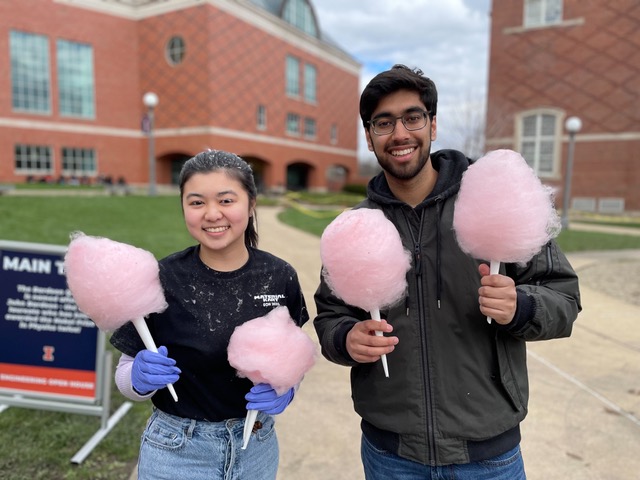 ENG 100 introduced me to more than my classmates, though. Our student-teacher Clarissa Domanus, now a '21 alumna, was the treasurer of Material Advantage, which is the student organization open to those interested in materials. They host numerous professional, social and service events in an environment that fosters relationships among students and between students and faculty. Clarrisa encouraged us to attend the monthly general meeting. I decided to give it a shot. After all, college is about trying new things and meeting new people.
What instantly drew me to the organization was how friendly and welcoming the upperclassmen were. They got along so well and were eager to meet my class. As I sat in during the general meeting, I knew I wanted to join the board. I guess it was my lucky day because they were hosting elections for two freshman representatives in a month. When I announced I was running for freshman representative, my classmates had my back. They showed up and voted for me, which made me feel supported as a MatSE student.
As a freshman representative, I hosted events for the freshman class such as review sessions before midterms and hangouts on the South Quad. My favorite event was a scavenger hunt through the Bardeen Engineering Quad, where our MatSE professors volunteered to give us clues. I started feeling like I had a purpose in college.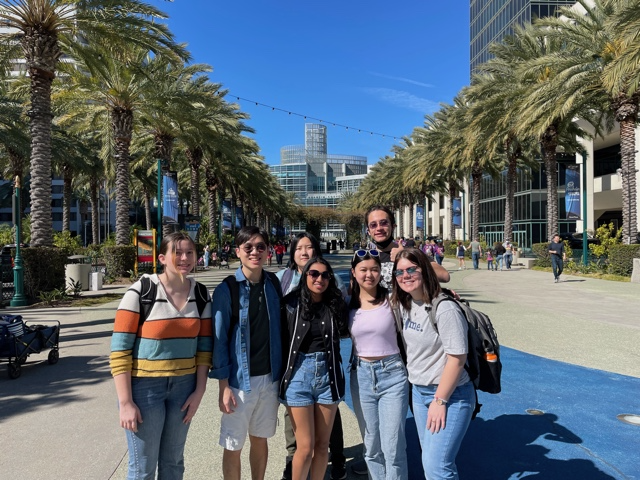 The next year, I was elected vice president of Material Advantage. In this role, I led the annual mentorship program where I grouped upperclassmen and underclassmen together. Organizing this program meant a lot to me because I wanted to help the newest class of MatSEs find their footing in the major. Capture the flag, board game night, Family Feud — my personal favorite, the annual Curtis Apple Orchard trip and a holiday get-together were just some of the events we hosted. I was so grateful to witness strong relationships between mentors and mentees grow.
Even today, mentees still contact their mentors. I, for one, keep in touch with my mentees through our group chat. They've asked me how rigorous their course map looks, when Material Advantage events are and when to grab coffee on campus; one of them is a caffeine addict.
I was proud to bring the MatSE community together and increase engagement through the mentorship program. What was a strong community is even stronger now, and the bridges that were built will stay built for a while to come.
Now I am the president of Material Advantage, and I couldn't be more excited! We have loads of fun events and professional opportunities lined up this year. What I'm looking forward to the most, though, is meeting the incoming MatSE class. I want to show you the incredible, tight-knit community I found in this major. I don't know what I would've done without my fellow MatSEs, but I do know I found my purpose in college because of them.
Seize Every Opportunity
Our two student societies, Material Advantage and Keramos, provide MatSE students with excellent ways to connect with their peers, network with professionals on the national and global scales, gain invaluable mentorship opportunities, and create friendships and memories that last a lifetime. Explore all that awaits you in your Illinois journey.