Materials are all around us. At Mid-GLAM, 7th- through 9th-graders will have the opportunity to think like a materials scientist by investigating how materials are put together, how they can be used and how they can be changed or improved. Campers will by exploring the heart of materials, like plastic or metals, that make up the everyday objects around us — from the clothes we wear to the batteries that power our phones. Your grade-schooler will walk away with a basis of STEM knowledge and a great deal of fun.
Mid-GLAM (Middle-School Generation Learning About Materials) Camp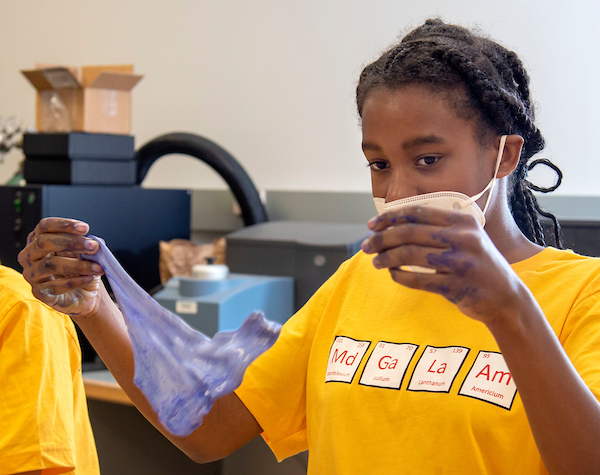 For rising 7th – 9th graders [EAGER*]
Join us June 12-16. Application deadline TBD.
All camp applications are submitted through Worldwide Youth in Science and Engineering Program. No special background is required to participate — only curious minds ready for fun.
At Mid-GLAM Camp, you will:


Explore the materials that run our society
Learn how to make every day materials
Understand how materials function and how we can predict the ways they will evolve in the future
Investigate how materials are made stronger, cleaner, smarter, and more colorful or lighter

*EAGER camps are mission-driven camp sessions led by Engineers Aiming for Gender Equity & Representation in STEM majors and careers. These camps focus on support and empowerment of traditionally excluded populations in STEM. The absence of their talents is a detriment to the STEM fields. EAGER camps provide a safe environment to build a community of peers and mentors who empower one another to be confident in their exploration of STEM. All are welcome to apply.
Check out all our 2023 Mid-GLAM campers were able to explore during their week-long session learning all about materials science and engineering.
Camp Coordinators


Cecilia Leal
Cecilia Leal, a MatSE associate professor, grew up in Portugal in a rural town, but her appreciation for learning and science brought her to Sweden, Norway and the U.S. to pursue an academic career. Having joined MatSE in 2012, she maintains an interest in materials for medicine as well as materials inspired by nature. Leal is passionate about fostering a diverse and inclusive scientific community. She likes to spend time with her two kids and husband, hang out with friends, and ride her bike to work.

Antonia Statt
Antonia Statt, a MatSE assistant professor, hails from Germany. Her academic career brought her to many places in Europe and eventually to the U.S., where she joined the U of I in 2019. Statt's research is completely computational, focusing on the fundamental understanding of soft and squishy materials with applications for energy and medicine. She is passionate about making science and the scientific community accessible and welcoming for everyone. In her free time, she enjoys being with her partner, cat and dog. She also enjoys painting, block-printing and working with stained glass.

Hua Wang
Hua Wang, a MatSE assistant professor, grew up in China, where he completed his bachelor's in polymer science and engineering. Afterwards he moved to the U.S. for graduate studies, joining the U of I faculty in August 2020. He has a chemistry and materials training, but his research has shifted to biology over the years. His lab focuses on bio materials, cell engineering and immunotherapy. Within and beyond the research community, he is committed to fostering an inclusive, diverse and collaborative environment. In his leisure time, Wang likes photography, watching sports and hiking.