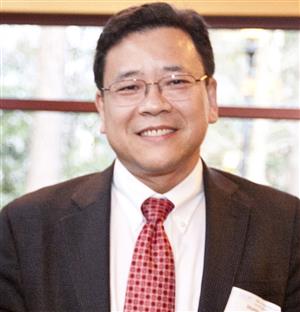 For more information
Education
1989 Ph.D. Department of Chemistry, Northwestern University
Chapters in Books
A. Agwaral, T. Sathe, S. M. Nie, "Nanoparticle probes for ultrasensitive molecular detection and imaging," an invited chapter in "Single-Molecule and Single Cell Analysis," 2005.
Selected Articles in Journals
A. M. Smith, L. A, Lane and S. M. Nie, "Mapping the Spatial Distribution of Charge Carriers in Quantum- Confined Heterostructures," Nature Communications, 5, 4506 (doi:10.1038/ncomms5506), 2014.
A. M. Smith, A. M. Mohs, and S. M. Nie, "Tuning the optical and electronic properties of colloidal nanocrystals by lattice strain," Nature Nanotechnology, 4, 56-63, 2009.
X. M. Qian, X.H. Peng, D. O. Ansari, Q. Yin-Goen, G. Z. Chen, D. M. Shin, L. Yang, A. N. Young, M. D. Wang, and S. M. Nie, "In-vivo tumor targeting and spectroscopic detection with surface-enhanced Raman nanoparticle tags," Nature Biotechnology, 26, 83-90, 2008.
Y. Xing, M. D. Wang, and S. M. Nie, "Bioconjugated Quantum Dots for Multiplexed and Quantitative Immunohistochemistry," Nature Protocols, 2, 1152-1165, 2007.
X. Gao, Y. Cui, R. M. Levenson, L. W. K. Chung, and S. M. Nie, In-vivo cancer targeting and imaging with semiconductor quantum dots, Nature Biotechnology, 22, 969-976, 2004.
M. Y. Han, X. Gao, J. Z. Su, and S. M. Nie, Quantum-Dot-Tagged Microbeads for Multiplexed Optical Coding of Biomolecules, Nature Biotechnology, 19, 631-635, 2001.
W. C. W. Chan and S. M. Nie, Quantum dot bioconjugates for ultrasensitive nonisotopic detection, Science, 281, 2016-2018, 1998.
S. M. Nie and S. R. Emory, Probing single molecules and single nanoparticles by surface-enhanced Raman scattering, Science, 275, 1102-1106, 1997.
S. M. Nie, D. T. Chiu, and R. N. Zare, Probing individual molecules with confocal fluorescence microscopy, Science, 266, 1018-1021, 1994.
Journal Editorships
Nanotechnology Advisory Committee, nGimat, Atlanta, GA
Founding SAB Member – Nanoplex Technologies, Mountain View, CA
Recent Courses Taught
BIOE 479 - Cancer Nanotechnology
BIOE 497 NIE - Individual Study
BIOE 498 NIE (BIOE 498 NIO) - Surgical Technologies
BIOE 598 AMS (BIOE 598 NIE, BIOE 598 CNO, BIOE 598 NIO, BIOE 598 STO) - Surgical Technologies