Materials science: From the classroom to the race track
Tiffany Liu and Taft Hammond are two of five MatSE students representing the 150-member Illini Solar Car team at the University of Illinois Urbana-Champaign. Together they work with 20 different majors to design and build top-performing, sustainable solar vehicles.
Written by Heather Coit
A shared interest in working with composites, sustainable manufacturing and an interdisciplinary team led MatSE students Tiffany Liu and Taft Hammond to join the Illini Solar Car team, which boasts over 150 members.
Liu and Hammond are both members of the Mechanical sub-team, responsible for designing and building the car's structure, among other duties that include leadership roles.
Hammond, the composites lead for the sub-team, works with fiber-reinforced polymer-matrix composites, which he describes as forming the shell and chassis of the car plus subsidiary components.
"My main responsibility is leading composites manufacturing projects, typically layups, but my responsibilities include composites sourcing and materials testing," Hammond said.
Liu primarily works with composites and acts as the team's new member coordinator, focusing on recruitment. As one of five MatSE student members of Illini Solar Car, she hopes to attract more of her peers.
"I want more MatSE students to be involved with technical RSOs that provide opportunities for hands-on practice for our distinctly theoretical curriculum, and part of that has been making our training process more effective and engaging," Liu said.
As Liu and Hammond have learned, students have several ways to apply their materials science lessons to the team's solar car work.
"My solar car experience and MatSE coursework provide mutual reinforcement," Hammond said. "MatSE provides me with a theoretical background and a deeper understanding of the mechanical properties of materials, while solar car gives me a chance to learn fabrication techniques that you don't necessarily gain through coursework."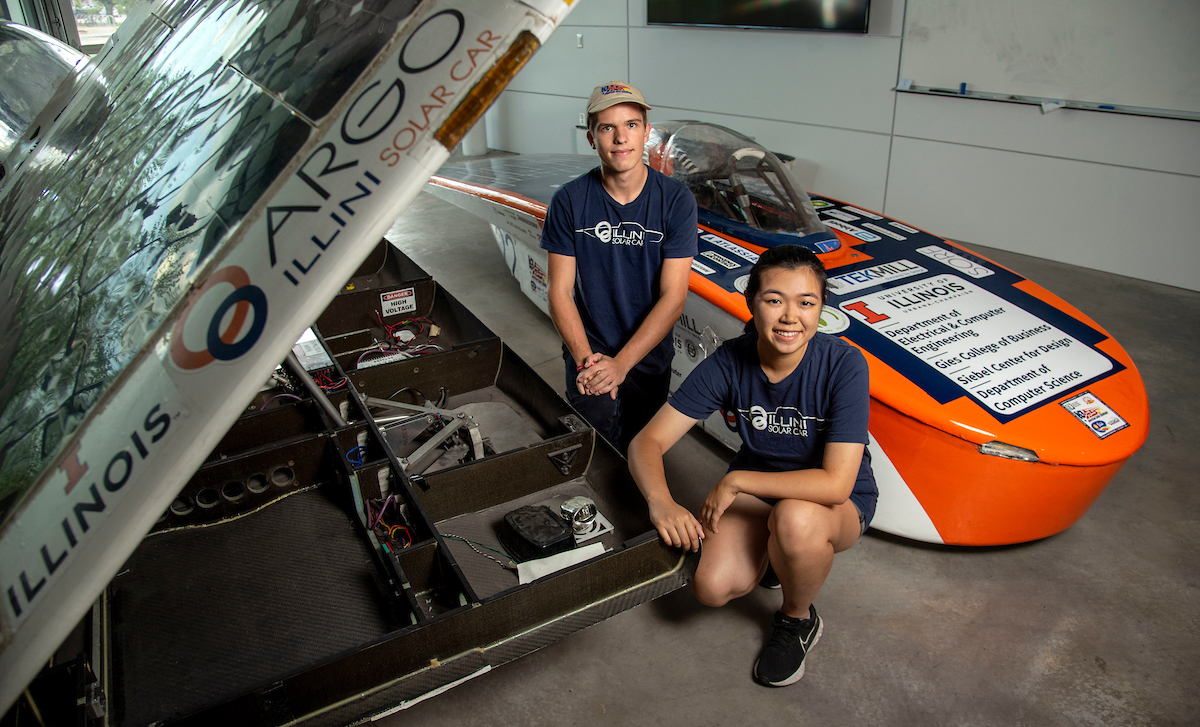 The interdisciplinary nature of Illini Solar Car is another benefit to students who want to work alongside teammates representing over 20 majors at the university.
"Throw 75 engineers of various backgrounds at a project, and it's bound to be solved," Hammond said.
The two had a chance to put this teamwork to the test last July when they joined the team to race their solar car, Brizo, at the distance-based competition, American Solar Challenge, finishing sixth place in the single occupant vehicle class. Just before the eight-day competition, which began in Missouri and ended in Idaho, they took fifth place in the SOV class at the Formula Sun Grand Prix in Kansas.
"My favorite part of the race was talking to other teams about their manufacturing process and seeing all the great work on solar cars," Liu said. "An engineering lesson I learned was always to consider fatigue cycles and safety after we caught small cracks forming in critical but unnoticeable parts."
"In terms of life lessons, certainly the most pertinent would be to be prepared for anything, and I mean anything," Hammond said of the experience. "You never know when life will throw a semi-truck at you."
This upcoming year is a big one for Illini Solar Car as they begin to build Brizo's successor. The new car and crew are headed to Australia when they race at the 2023 Bridgestone World Solar Challenge.
Collaboration will continue to be important for members like Liu and Hammond, who appreciate the kinship created among the growing team.
"Our team's work is collaborative in nature," Liu said. "We all deal with similar struggles as students, but the proximity that comes with figuring out how to make the best solar car strengthens the feeling of community.