A Stroke of Genius
By day, postdoc Laurent Souqui spends his time doing research in a lab. But once he goes home, he journeys into a realm of colors and experimentation through his art.
Written by Lauren Laws
Common Ground Food Co-op is awash with colors. The moment you step inside, your eyes can't help but notice the grass green and muted yellow on the walls, the rainbow of produce, or the colorful packaging of the products for sale. But past the registers and inside the Flatlander Classroom exists a whole different realm of color. While the store's colors invite customers to peruse and shop, the colors of what rests inside the classroom are meant to encourage you to think and feel.

Abstract shapes, landscapes, foreign worlds, the imaginable, and the unexplainable. All of this displayed upon a series of canvases hung behind a glass wall. They're just a small sample of one artist's work over the years, a journey of exploration and concepts of a mental landscape.

But this is not the work of an art student. Instead, everything shown in this gallery was created by a budding engineer whose lab research focuses on chemical vapor deposition of different materials.
Laurent Souqui, a MatSe postdoctoral researcher in John Ableson's group, has been painting for six years now. His work is currently being displayed at Common Ground, and will remain up throughout December.
He said his journey into art started with the mix of two emotions: desire and frustration.

"Since I was a kid, I wanted to paint. I told my mom so many times, 'Mom, we should paint,' and she always said, 'Oh, we'll do it later.' That still hasn't happened," he explained, chuckling.

That trend continued throughout his undergraduate college career. Even though he made friends with a group of painters, they graduated before they could teach him the necessary skills. During his years as a graduate student in Sweden, he finally decided to take matters into his own hands. Literally.

"At some point I just said, 'You know what? I'll start on my own,'" Souqui said. "Also, I was going through a rough time at the same [ time ], so I kind of needed to focus on something anyway."

Echos du passé (Echos from the past)
That new focus has yielded dozens of paintings over the years by experimenting with acrylic paint and various approaches. Most of Souqui's artwork are either landscapes or abstract in nature, although he said he doesn't have a specific style, instead preferring to do something on his own. When it comes to deciding what to paint when he steps in front of a canvas, Souqui said there are three pillars that dictate his approach. The first is technical, thinking about how to make something, which he said is the method closest to his background in science. The next is what inspires him at the time, be it feelings, emotions, or people he meets. The final pillar, yet by no means the least, is how he wants to express himself in his art.
One trick he said also helps is that he doesn't usually start with an entirely blank canvas. Instead, he has a number of canvases in storage that have excess paint on them.

"I think it's easier," Souqui said. "Sometimes I just pick one of those and I'm like, 'Oh, I see these red lines, or these red shapes or whatever,' which is just smeared paint on the canvas more or less homogeneous with some variations. But it's just more inspiring to start."

That means he usually has a number of paintings in the beginning stages of progress at any given time, just waiting for inspiration to strike. Some artists use their daily lives to ignite that spark. However, Souqui has kept his lab work and studio separate. Likewise, he admits he strives to stay away from perfectionism, instead stepping back from his art to say 'It's good enough,' a very different approach than what he would do in a lab. But even he can't always escape his scientific and engineering methods.

"I would often have relatively strict rules when I paint something," he said. "It could sometimes be very simple rules like 'we use these colors,' or 'we use a lot of colors,' or 'we use straight lines.'"

One such series of paintings utilizing his rule of using only straight lines is 'Monochromes I: Horizons Urbains.' To create his straight lines, he forewent the usual paintbrush or paint knife, instead going for an unorthodox utensil.

"I just bought a ruler, and I said I need to paint with this ruler as much as I can. And I basically did the painting with a ruler and one color, and some variations of overtones," he explained. "You realize, 'Oh, actually, even with a ruler, I can still express something.'"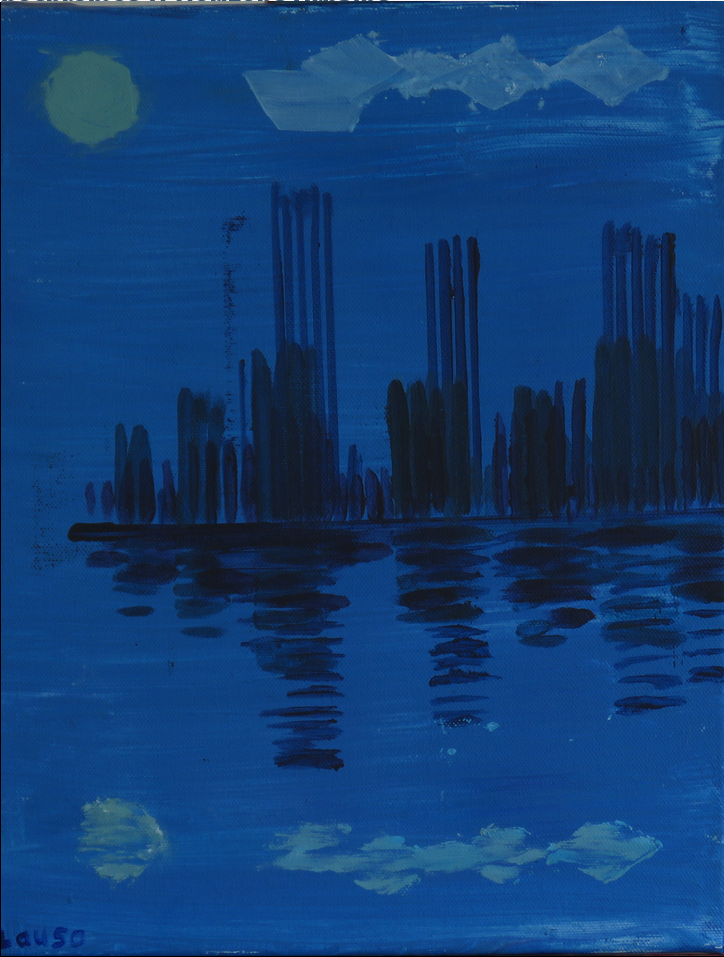 Even though the triptych of paintings shows a skyline, it's actually not painted in. Instead, the viewer's mind interprets the skyline in its absence. This is noticeable if the painting is viewed both in-person and online. Even though parts of Souqui's portfolio can be accessed online, he said some things are better seen in real life.

"Typically, things that are carved or different textures, those kinds of things you can only see them when you're up close." Two paintings from Souqui's series, 'En quête du silence,' feature examples of those textures and hidden details. In 'Passage,' a red, Japanese torii gate is barely visible in the center, obscured by a blue sphere. Meanwhile, in 'Echos du passé,' the dark sphere in the center conceals a secret that can't easily be seen through a screen. It's only in person that details such as the buildup of paint and carvings that reveal a raised, geometric pattern are truly noticeable.

Part of Souqui's artist statement reads he 'take[s] on the mental journey to go beyond [his] own boundaries and hope[s] to come back with something to share with others in the so called "real" world, whether it is to make people smile, reflect, or to bring awareness.' It's a long way from where he started as a young child asking to learn to paint, to teaching himself, and now this. He said for others to do the same, whether it be art, music, or whatever they desire, they only need to take that first step.

"You can buy supplies and try to do something, but you also have workshops and sometimes free stuff that is going on in town, like at the IMC," he encouraged. "So I'm thinking, if you want to paint, you could just paint, or try anything you want to do."