Alumna Marie Mayer's innovating batteries
Marie Mayer, a MatSE '07 alumna, is a director at QuantumScape, a solid-state lithium-metal battery company in San Jose, Calif. that aims to develop batteries that charge faster, go further and last longer. For the last 10 years, she's served in various roles at QuantumScape, which has prominent investors like Bill Gates and Volkswagen. Mayer also holds a doctoral degree from the University of California, Berkley in materials science and engineering.
Let's catch up with this standout alum in a Q&A.
****


Q: How has your role at QuantumScape evolved over the years?
A: "My role has changed a lot over 10 years, but currently I manage the engineering team responsible for scaling up production of the QuantumScape cell. We design processes to ensure components and cells meet the cell specifications, which we also set. We also work with the production team to ensure successful implementation and use numerical data analysis and physical analysis of tear-downs to assess status, progress and guide the company's problem solving through problem-statement definition.
"I began as an individual contributor at a company of 17 people doing research and development, and we have now grown to a team of more than 30 people providing engineering support for a more than 600-person company looking to scale our product."
Q: What impact do you hope QuantumScape will make on our everyday lives?
A: "We're part of the electric vehicle present and future! Our technology uses a metallic lithium anode (the negative electrode in a battery), which is fundamentally the densest lithium-ion anode possible. Our electrolyte technology enables safe in-situ formation and cycling of such a battery, and we've demonstrated fundamental capabilities that, for years, the research field thought was impossible. This is because we've been fortunate to have a well-funded organization made up of extremely talented and passionate individuals.
"While, obviously, my priority is the success of QS in a competitive field, I'm proud that our demonstrated cell performances can still inspire any battery manufacturer to push every inch of range out of their own battery systems. Ultimately, the world wins when we propel vehicle electrification further down the road to be the new norm, and I'm honored to be a part of the journey."
Q: What interested you in materials science and engineering?
A: "I was split between a major of electrical engineering and chemistry. I started out in the electrical and computer engineering department, but I felt frustrated that we were not talking about how the electrons moved inside of the devices that we had equations to model.
"I found out about materials science and engineering from an acquaintance from high school, and he recommended I meet with professor Angus Rockett, (who is now a professor emeritus). He and I chatted about the major, and I recall being touched that he spent so much time with an ECE student. I actually changed majors from electrical engineering to MatSE because it allowed me to toe the line when I couldn't make up my mind between my original two passions.
"With my MatSE major, I did most of my undergrad research with ECE in the Beckman Institute, and I ended up with a chemistry minor, too."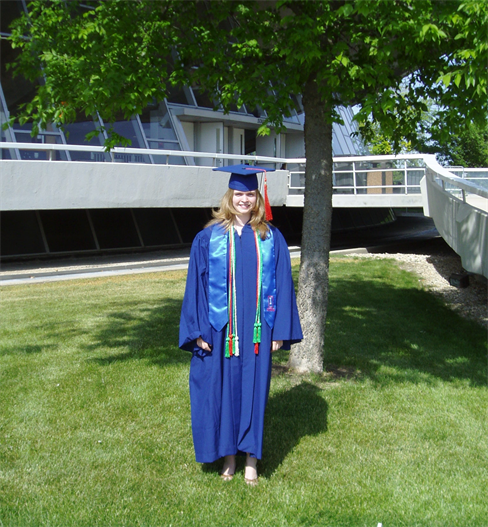 Q: What drew you to attend the University of Illinois?
A: "I grew up in Chicagoland. My parents are both Illinois alumni (Math, '69 and '70), and I was determined to go just about anywhere else. As many of us do, I recognize now that my teenage vision wasn't the most mature approach to the future, and that I was privileged to have the chance to be so petty. Fortunately, in-state U of I tuition was a phenomenal monetary deal, and the school is undeniably a powerhouse of engineering, so I applied and pursued admission anyway. I was accepted early — back then, there was rolling admission — and when my packet came, I started getting excited to move on from high school.
"I came down to visit the campus as part of the SITE (Student Introduction to Engineering) program and immediately just felt at home. I knew quickly this was the right campus for me, and I was confident that there were more than enough options in every direction to meet my every need — no matter what that was. This, plus the fun I had that weekend building a cardboard boat and racing it down the pool length, cinched my decision to attend UIUC. It later ended up to be a special feature of my U of I experience to have shared university traditions with my parents years apart."
Q: What are some of your fondest memories from your time at MatSE?
A: "Hanging out with my friends, including now professor Jessica Krogstad; volunteering for the college of engineering, now The Grainger College of Engineering, which included the SITE program with many of the same friends; Engineering Open House; being a Knight of St. Patrick and being president of Alpha Omega Epsilon.
"It's worth nothing that we had AIM (AOL Instant Messenger), and we had texting and even Facebook, but zero of my fondest memories actually required much technology. My fondest memories are unpredictable moments, mostly with friends, that stuck with me in a way that I didn't need a phone or a photo to capture it. They include a specific goofy night studying or a sing along at Murphy's Pub, a snow day, finally understanding a band diagram or k-space, chemistry/materials science cartoons, inside jokes, barn dances, a turkey roasted in a garbage can, finishing a homecoming float at 2 a.m., designing EOH-themed exhibits also into the wee hours, quad at night in the autumn, waking up at 7 a.m. for socializing for football games while hating 8 a.m. classes, dorm food dinners with my roommate, visiting the bells of Altgeld Hall and so on."
Q: What research did you conduct during your time at Illinois?
A: "I worked with professors Joe Lyding in ECE and Angus Rockett in MatSE, and I'm grateful for their and their graduate students' mentorship. I used scanning tunneling microscopy (STEM) on Cu(In, Ga)Se2 or CIGS solar materials to measure the band gap of the material across different faces of the crystal structure. STEM is pretty much the most elegant microscopy, though a TEM (transmission electron microscope) expert may disagree with me. The data is worth the pain! Besides the basics of research, I learned not to fear the tools but engage with them and understand them and the data. I learned that if the experiment is working, this is not a good time to go home and finish tomorrow."
Q: What research are you working on now?
A: "The most fascinating and exciting research I've had the privilege to be a part of is the development of solid-state batteries — way more than even my Ph.D., which was on solar cell materials and photoelectrochemical water splitting. Failure analysis, in particular, is the closest to pure materials science. It's hard and requires both depth and breadth to narrow down our problem statements. I love asking "so what?" about what we find, because the understanding is only important to the company's progress in terms of what we will do about it."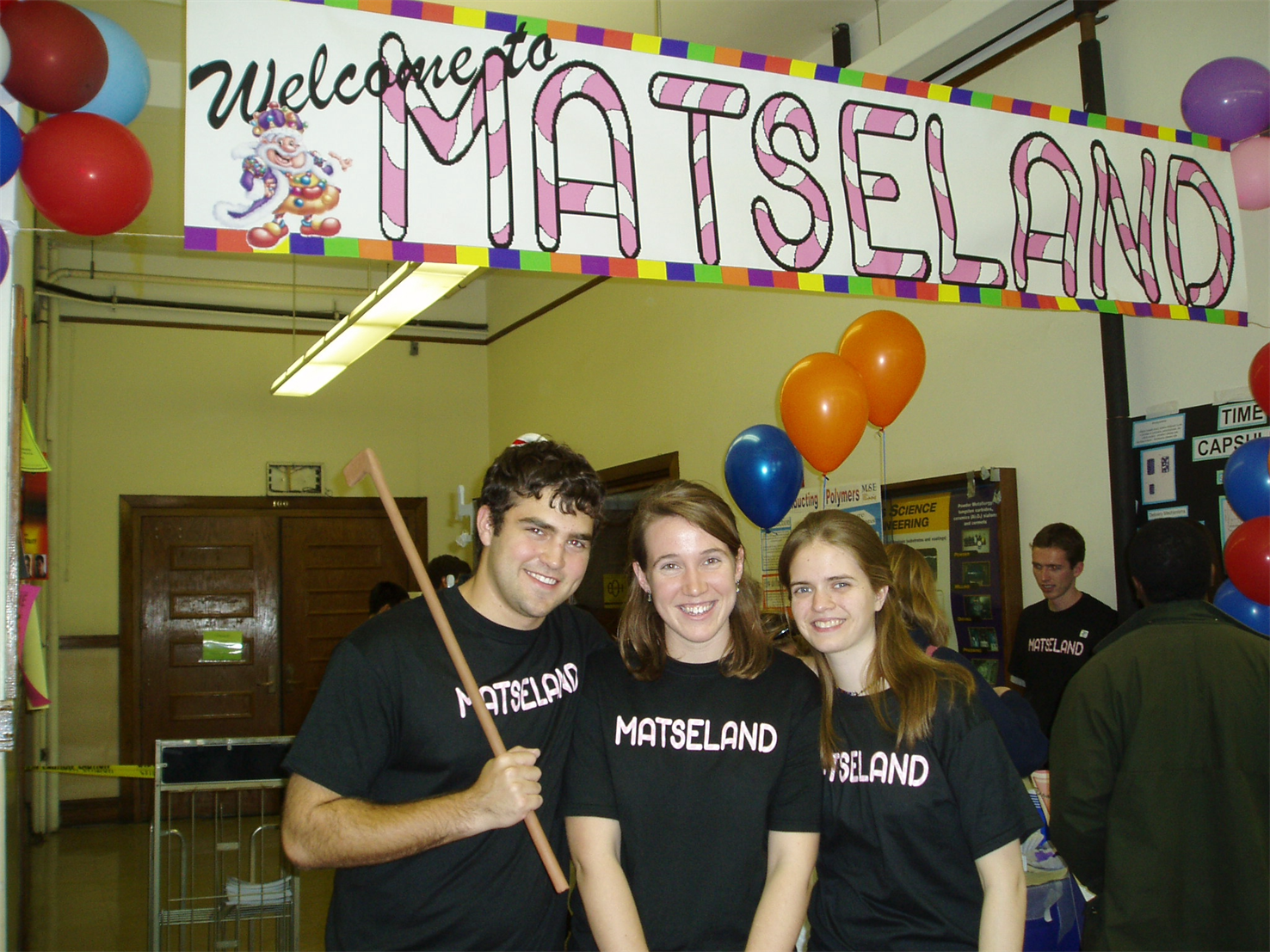 Q: How did your time at MatSE prepare you for your career?
A: "I definitely use materials fundamentals on a regular basis. Even if I'm not doing hardcore analyses, it is the basis of my intuition, which isn't really intuition but is a technical context built up from experience after those initial learnings.
"Also, the concept of having to complete a test or an assignment is valuable to understand deliverables at work. You may have the best-laid plans in the world, but if you can't show progress or declare completion, what I call sinking the eight, the product still doesn't exist.
"The undergrad lab experience was also helpful, as most industry manufacturing problems are solved in the lab and sometimes engineers have a strangely large activation barrier to get out from behind their computer and into the lab. I learned a lot about leadership and mentoring when I taught freshman general chemistry in the 8 a.m. section because all of the graduate student teaching assistants passed on it."
Q: What advice do you have for the incoming MatSE class on starting off the school year strong?
A: "Try to find an advisor, an academic, not research one, you click with if it's not the one you're assigned. Try new things across the campus early and often. You may find something that becomes more of you than you expected and no matter how busy you feel, you will only get busier in life. People, and therefore resumes, are built on your passions; it's not trying to just check a bunch of boxes. If you don't have to work hard, try harder or find something that does make you have to try — that's how you grow. I got my first, and last, D ever my freshman year, and the wake-up call was well worth it. Why else did you go to college?"
Q: What advice do you have for current MatSE students?
A: "Different classes require different skill sets based on the professor and the material. Try to identify the skills you're building along the way and push yourself when you find your weaknesses. College is a remarkably safe environment to do this. Learn python even if you don't use it yourself, you'll be surrounded by data and understanding how to interact with it, and it will help you make wiser choices. Real life requires that the whole team succeeds or fails. Life is too short to spend competing with your friends and colleagues. Try some undergraduate research but focus on what you are learning and what you can learn from your advisors rather than the end result. Get off your phone or computer. Use a real paper book and paper and pencils and let your brain not get so distracted."
Q: What makes MatSE the coolest major?
A: "MatSE is a crossroads of both engineering disciplines and people. At least back in 2007, I thought the department had excellent camaraderie as well, probably because of the size, professors and the cross section of interested students. It's a good springboard to many paths, but don't use this as an excuse to switch problems when solving any particular one gets hard."
Q: What do you cherish most about your time at the U of I?
A: "I cherish my friends and memories from U of I the most, though I learned a lot about materials and myself, too. These came from the time I spent in extracurricular activities, like Alpha Omega Epsilon and SITE, and studying with my MatSE friends. I definitely won't forget the pranks we pulled as Knights of St. Patrick, nor my fellow knights.
"My closest friends today are still people from the activities, MatSE or classes in the campus honor's program because we bonded over the struggle to learn, grow, finish projects or solve problems. Of course, we had fun at Murphy's Pub, Brothers Bar & Grill (now closed) or our home, but the work-hard-play-hard mentality is real. We appreciated socializing more than we could before we knew what it was like to accomplish something.
"College was a mixture of finding myself, looking toward the future, and appreciating and living the U of I traditions set up by the students before me. Honestly, I'll always cherish all of the memories, even the embarrassing ones."
Harness Your Power
Our undergraduate program ranks No. 2 in the nation. We bring together the brightest minds in the world to solve the most pressing global challenges of our time.