Cahill to receive Klemens Prize for phonon physics contributions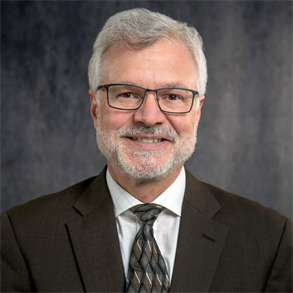 URBANA, Ill. — Our faculty are front-runners in their field. Take David Cahill for example. The Grainger Distinguished Chair in Engineering has been awarded the Klemens Prize, which acknowledges a scholar who has "made longstanding contributions to the field of phonon physics."
The award is given every three years at the International Conference on Phonon Scattering in Condensed Matter. This year's conference will take place in Paris, France from July 2-7.
"It's great to be recognized for the body of work from the condensed-matter and materials physics community," Cahill said.
Cahill's research impacts areas like memory and data storage. His body of work includes nanoscale thermal transport, which is essentially how heat transports in small systems on short timescales.
He's helped improve large data centers with heat-assisted magnetic recording, which assists with how the temperature evolves in magnetic recording devices while they're operating.
Cahill's also made strides in the miniaturization of power electronics, which entails managing heat in more and more compact volumes as technology advances — from solid-state lighting, power converters and even making the battery brick on your laptop smaller and smaller.
He's also explored the transport of heat in medical treatments, including making temperature excursions in tissue to control the heat of the tissue. This is crucial in hyperthermia, a type of cancer treatment where the body tissue is heated to help kill cancer cells with little to no harm to the tissue.
"Nanoparticles would be attached to cancer cells and then those nanoparticles are heated," Cahill said. "Some of my work is about understanding how well we can localize heat in that way."
Cahill's also being recognized for his advancement in methods for measurement techniques for how heat is carried in materials. His recent efforts include improving thermal conductivity measurements of the Earth's minerals, including its mantel and core.
More than anything, Cahill appreciates being recognized for his "big-picture implications" alongside peers he truly admires, including fellow University of Illinois Urbana-Champaign faculty Ansel Anderson and James Wolfe.
"I was very honored," he said. "There's been a lot of people I admire that have received this award in the past, and I have learned a great deal from their work over my whole career."