Eltoukhy Family Innovation Lab set to empower next generation of MatSE students
As the world seeks sustainable solutions to reduce carbon emissions, eliminate environmental waste and improve human health, the need for innovative thinking in materials science has never been greater.
Titans of industry and policymakers look to materials scientists and engineers to pioneer long-lasting batteries to power electric vehicles, design polymers and electronic materials that are easily recyclable, and discover new biomaterials that enable life-saving medical treatments.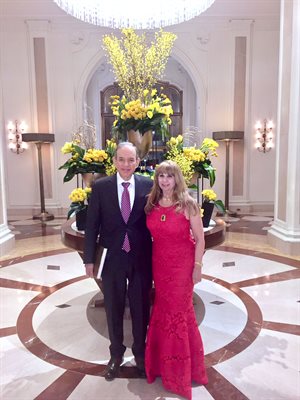 With the creation of the Eltoukhy Family Innovation Lab, the University of Illinois Urbana-Champaign's Department of Materials Science and Engineering (MatSE) will be positioned to do just that, equipping the next generation of material scientists and engineers with the know-how to provide solutions that address global problems. The Eltoukhy Family's gift will provide students with a more collaborative work environment with plenty of room to spark interdisciplinary research.
"The lab space will help us achieve a competitive edge by attracting the most promising scholars by giving them team-oriented, hands-on learning experiences in a dedicated area," said Nancy Sottos, Swanlund Chair of Materials Science and Engineering, Center for Advanced Study Professor and MatSE department head. "Developing these open collaborative spaces also allows us to introduce modern concepts in materials design and sustainability to our current students and greatly enhance the materials education for our future students."
The lab will be created by renovating existing space on the first floor of the Materials Science and Engineering Building (MSEB). It will be named after Atef Eltoukhy, a Grainger Engineering Campaign Cabinet member and MatSE alumnus who earned a doctorate in metallurgical engineering in 1978, and his family whose generosity has kick-started this multi-phase building project. The Eltoukhys' gift marks the largest non-planned gift commitment from a household to the Department of Materials Science and Engineering during the With Illinois campaign.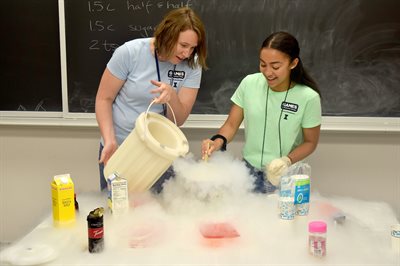 "This truly generous commitment from the Eltoukhy family will ensure that our students are equipped to become leaders in start-up companies, industry, academia, national labs and more," Sottos said. "We can't wait to see how these strategic enhancements enable our students to pioneer next-generation technology."
Atef and his wife, Fofa, chose to give this generous gift to the department because of how well Grainger Engineering prepared Atef for his future. His career has spanned multiple sectors which has included becoming a professor at the University of Southern California, a scientist at IBM, an entrepreneur and co-founder of two companies that he brought public in Silicon Valley, and a financial analyst and money market manager.
"It was important for my family and I to pay back the gift of education. What you learn at Grainger Engineering that extends beyond the science and technology; is the critical thinking and problem solving," Eltoukhy said. "Because the University of Illinois provided me with such a great education, we wanted to say, 'thank you' in this way," he shares.
Phase one of this project will bring collaborative workspaces for MatSE students, providing maker spaces and advanced computing workstations for digital design. This renovation will increase students' access to instructional labs and lab equipment that wasn't available previously.
These spaces will be equipped with design-centric tools, including multi-material 3D printers, digital microscopes, scanners, and advanced analysis and modeling software.
Not only will this gift help prepare students with the tools that MatSE's current undergraduate instruction labs were lacking, but it will also begin to help reimagine the Senior Design Capstone course, which allows students to maximize their experience, test their ideas and bring to life the theories they've learned in their classes.
This first phase also opens a world of opportunity for outreach events and programs, like MatSE's GEMS Camp (Gender Equality in Materials Science), where 10th through 12th-grade high school students explore materials science with hands-on STEM activities at the week-long camp. "I (attended a camp) like this in high school, and that's the reason why I got interested in the field," said Jessica Krogstad, camp coordinator and MatSE associate professor. "It was really captivating, and it was exciting to see all of these different disciplines coming together. So we really work hard to try and demonstrate how diverse material science is."
Additional renovation phases will continue to expand the innovation space on the first floor and have the potential to add up to 1,400 additional square feet of dedicated space for student design activities.
Every contribution to MatSE makes a difference. Eltoukhy urges others to pay it forward to help transform the MatSE educational experience and prepare our future leaders.
"I believe we have a duty to be good stewards of our success and share what we have earned with society, with those that educated us, and the people that made our successes possible. I would encourage others who can give to find ways to make what they have earned useful to other people. It's important to support current and future materials science and engineering students and help prepare them to become better scientists and engineers that make positive contributions in their areas of specialization."
You Can Be Part of Our Work
Learn how you can provide vital support that allows us to strategically invest in critical initiatives that will transform the student experience
and drive world-changing research.