Extracting confidence: Braun, Zahiri's team semifinalists in DOE American-made Geothermal Lithium Extraction Prize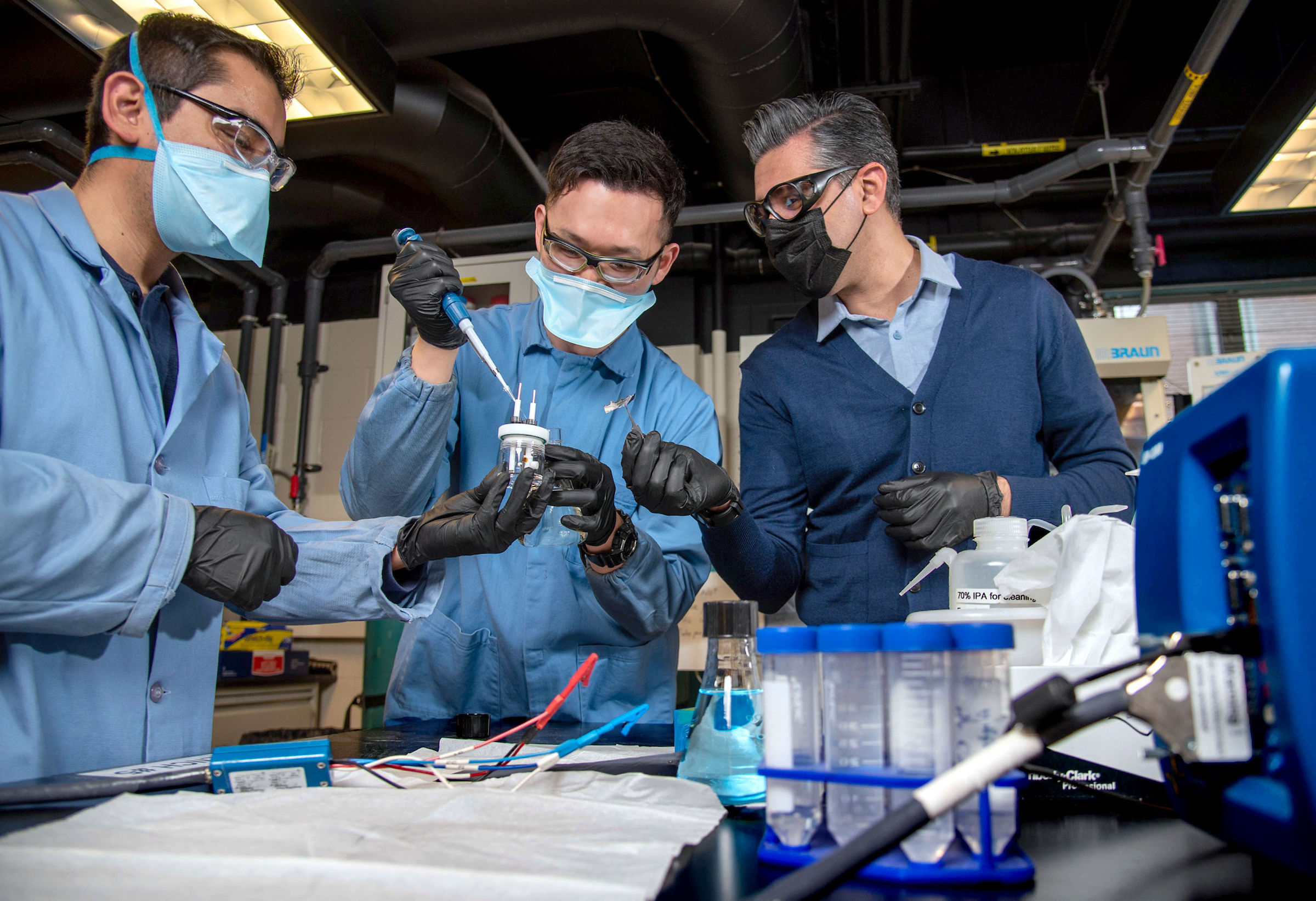 URBANA — At MatSE at Illinois our students are more than problem-solvers, they're difference-makers in evolving our way of life. Just ask Paul Braun, Beniamin Zahiri and their crew of MatSE at Illinois undergraduate and graduate students who are one of 15 semifinalists in the U.S. Department of Energy's American-made Geothermal Lithium Extraction Prize.
The MatSE at Illinois team, known as SelectPureLi, is being awarded $40,000 and moving on to phase two of the three-phase competition to further lithium extraction efforts.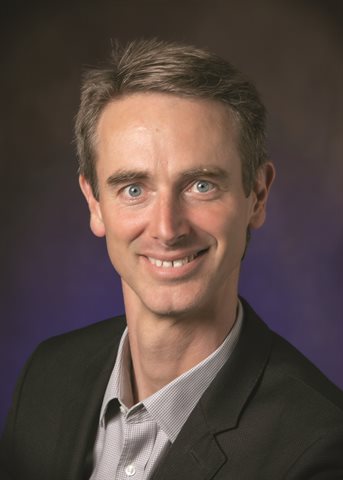 "There's a shortage of available lithium," said Braun, the Grainger Distinguished Chair of Engineering, professor at MatSE at Illinois and director of the Materials Research Laboratory. "Lithium is one of the key elements needed for lithium-ion batteries, the primary energy storage component for electric vehicles. There's realization that we need to find new and improved methods for domestically obtaining lithium."
Challenge accepted
Braun and company are teaming up with Xerion, a lithium-ion battery company in Dayton, Ohio, he helped co-found, for the contest. Together they've already developed new kinds of cathodes for lithium-ion batteries. Cathodes are electrode currents that leave a polarized electrical device, like in batteries.
The contest aims to find a good domestic source for lithium as it has limited availability, and it is primarily commercially produced in few countries like Australia or Bolivia.
Lithium is found in brine, which is often found in everything from geothermal wells to gas exploration. When you pump it out of the ground, along with water or oil, you're also getting a considerable amount of salt.
The most predominate form of salt is sodium chloride, "which is the same as table salt," Braun said.
"But there are also reasonable concentrations of lithium salts in brine," Braun added. "However, relative to other salts, the concentrations aren't high so you need to find some way to economically separate the lithium-containing salts from the other salts."
That's the challenge.
In phase one of the competition, the team put pen to paper, presenting its idea of using dense cathodes already developed for batteries as the material that will selectively extract and release the lithium.
Now, as the team prepares to compete for phase two, the crew is having to put the proof in the pudding and prove that its concept works.
"What we are now doing are proof of concept demonstrations and more sophisticated analysis of the energy required for the process," Braun said. "(So) demonstrating that the concept could be viable at the engineering scale. We are using the resources from the prize to carry out those experiments, and to bring undergraduates and graduate students into the lab to have them carry out these preliminary experiments."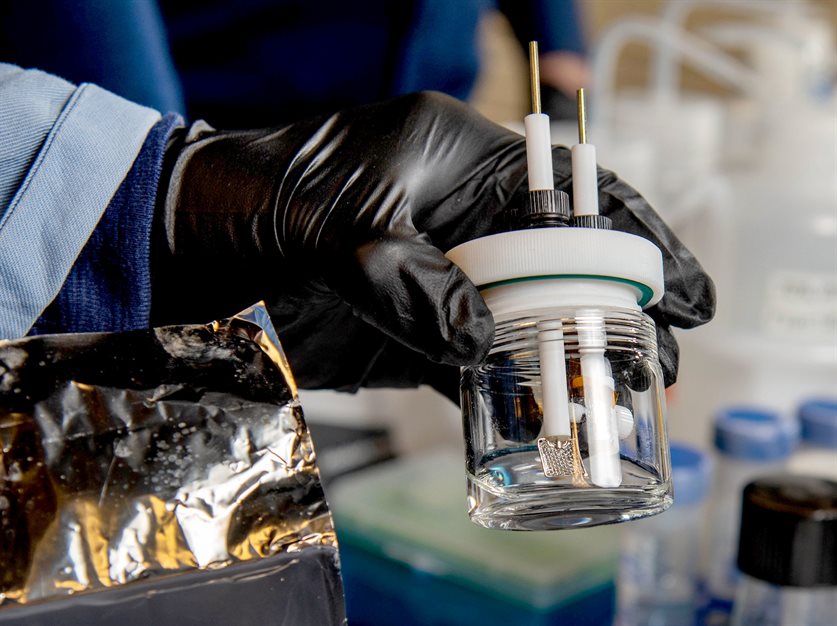 Solving real-world problems
Enter MatSE at Illinois research assistant professor Beniamin Zahiri, who helps advise the undergraduate and graduate students in the lab.
"(The) students have been able to quickly grasp the concepts and apply them in the lab towards achieving the project objectives," Zahiri said.
Graduate students Carlos Juarez-Yescas, of the Department of Chemistry, and Patrick Kwon, of MatSE at Illinois, are two of the student helpers conducting the experiments.
"(Our) role is to use electrochemical cells to efficiently and cleanly extract lithium from brines at the laboratory scale," Juarez-Yescas said.
For Juarez-Yescas, he hopes to make a difference not only in the industry, but also in the environmental impacts.
"While lithium-ion batteries have been at the forefront of zero-emission technologies, such as electric vehicles, the way their raw materials are extracted negatively impact the environment," Juarez-Yescas said. "The research we are conducting could lead to cleaner industrial processes, further increasing the viability of lithium-ion batteries."
Aiming to set an industry standard, Zahiri also hopes this experience is a key moment in the students' journeys.
"I hope they get to see how fundamental science can be applied to real-life problems," Zahiri said.
That real-world application is by no means lost on Juarez-Yescas.
His favorite part of the contest? Teamwork.
"While it is easy to specialize in a certain topic, real-world problems require interdisciplinary collaboration," Juarez-Yescas said.
That precious, collaborative lab time has made quite the impression on the doctoral student.
"One of the things I will never forget about my time in this project are the frequent, brief chats we have as a team," Jaurez-Yescas added. "These 5-minute chats are meant to inform on the latest developments of the experiments, but they usually go on for much longer, often resulting in a list of hypotheses and experiments to run. It is something quite humbling and fun at the same time."
The effort is also proving to be a self-esteem booster.
"This project is reassuring my confidence in my skills, it is showing me that I am capable of tackling challenges that will shape the world we live in," Juarez-Yescas said.
Kwon agrees.
"The work with this project will hopefully get me accustomed to working with given materials in a given set of procedures within a given time frame, (which is) similar to how industries would expect their scientists and engineers to carry out their projects," Kwon said.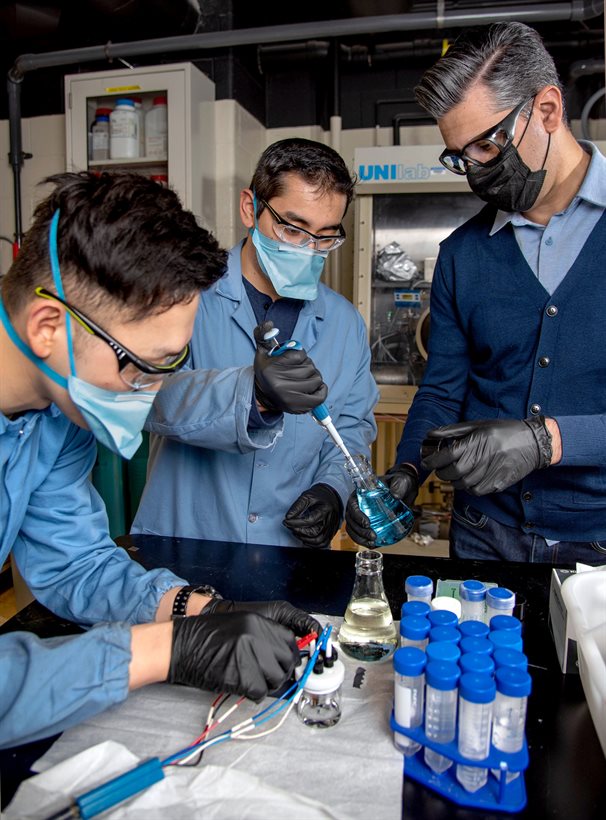 A collaborative spirit
Braun hopes his team becomes one of the five finalists advancing to phase two of the contest, where teams will be awarded a share of $1.4 million to design and improve their solutions. Should SelectPureLi move on to phase three, it would be one of three winners sharing $2 million to fabricate and test ideas.
Braun, Zahiri and crew will know their fate in April or May, and they expect the contest to wrap up in late 2022.
Prize or no prize, each part of the journey is a cherished milestone for Braun and his team.
"Even if we're not named a finalist, each stage you get to is great," Braun said.
One of the team's goals is to demonstrate the technology well enough that an industry leader would consider commercializing it.
"We're working with this small battery company, (and) maybe they would be interested in taking it further, (or) perhaps there's a third party," Braun said. "The prize will give us the opportunity to validate our concepts and receive affirmation from a community of reviewers that the concept is solid."
Braun hopes the contest is a means for his students to see how fundamental science plays a part in making a difference in our everyday lives.
"It's a way that they can see the implications of their more fundamental studies that could make tremendous differences in a relatively short time," Braun said. "They'll be able to come into the lab and with their own hands, in a matter of weeks, be able to see (like) ah-ha, these materials can actually do this."
Becoming difference-makers
Braun hopes the contest also gives the students an opportunity to see what it takes to make a difference.
"It's going to show them some of the challenges of working with real systems. It's not like an undergrad lab that'll be done in a day and most things will work," Braun said. "We may go for a month and have multiple failures along the way."
"They'll also get an opportunity to work with a small company (that) will give them feedback, and they'll also get to see the aspects of where the fundamental concepts that they learned in the classroom really apply," Braun added.
More than anything, he hopes the contest is an opportunity his students rise to the occasion, implementing classroom concepts in the real world.
"There are tremendous fundamental learnings, and hopefully (that) will affirm that what they're learning in the classroom really does matter for real and important problems," Braun said. "These kinds of projects are really good to engage (students) now before they enter the workforce."
Make an Impact at MatSE at Illinois
Your gift to the Materials Science and Engineering Priority Fund provides vital, unrestricted support that allows MatSE at Illinois to strategically invest in critical initiatives that will transform the student experience, drive world-changing research, and address social justice in engineering education and research.