Fostering inclusivity: Grad students Cofell, Porras-Gomez earn Diversity, Equity and Inclusion 3M Award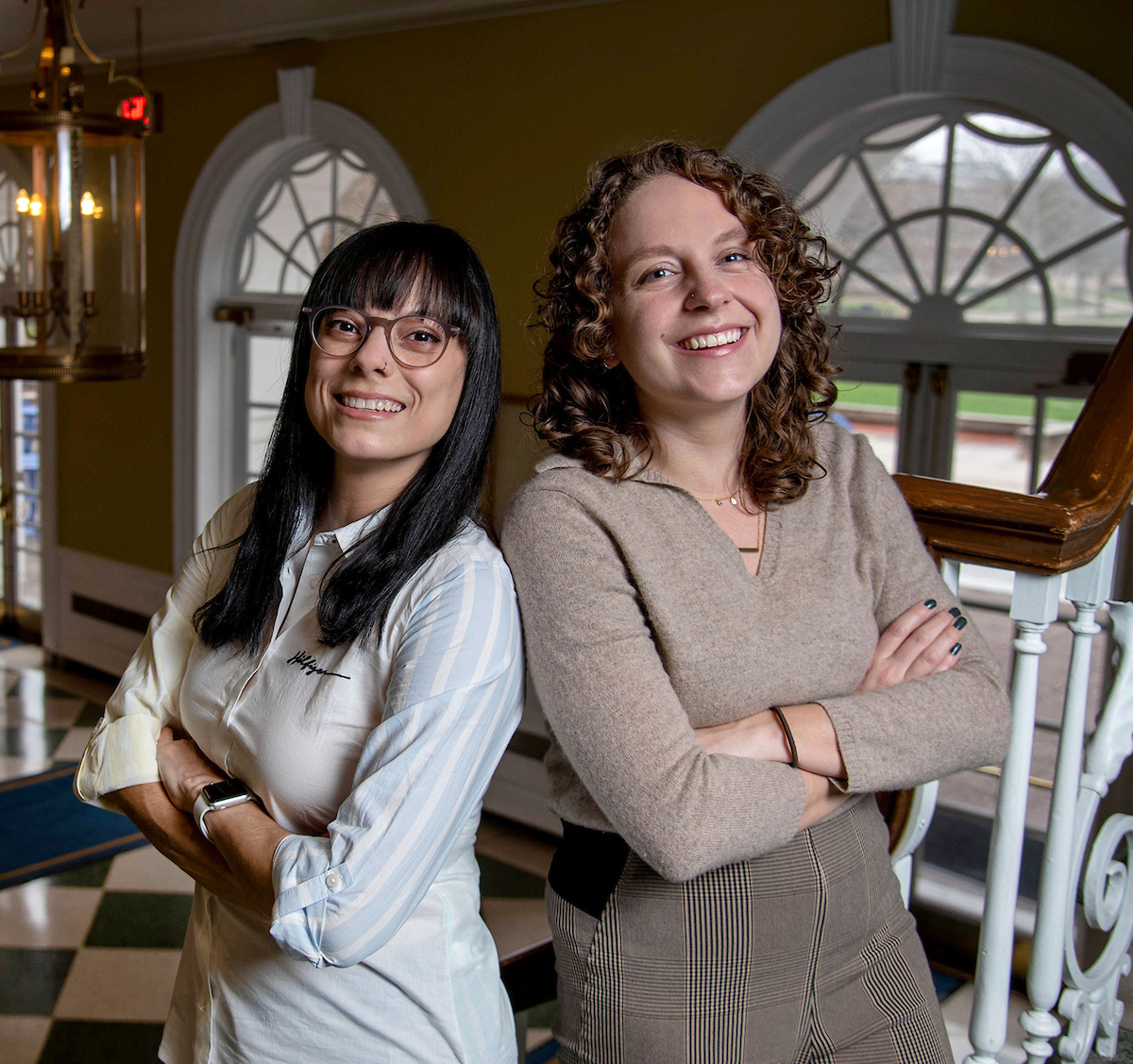 MatSE graduate students do more than discover materials that marvel. They're also legends in their community. Just ask Emiliana Cofell and Marilyn Porras-Gomez, recipients of the new Diversity, Equity and Inclusion 3M Award.
The award is a passion project born out of MatSE's Diversity, Equity and Inclusion Committee, which was formed in the fall 2020 semester and is chaired by associate professor Cecilia Leal.
"Creating this award was one of the first things I wanted to do," Leal said. "MatSE has a few awards to recognize excellence in research and teaching, but MatSE students do so much for DEI as well. I wanted their commitment to be celebrated."
Thanks to the generosity of 3M, MatSE's DEI Committee was able to make that happen, awarding Cofell and Porras-Gomez $1,000 apiece for leading DEI efforts that address challenges faced by underrepresented groups in science and engineering.
Empowering through example
Cofell's call to action is empowering high school students of traditionally excluded populations in STEM. She got to do just that by assisting in hands-on learning activities at GEMS (Gender Equity in Materials Science) Camp, formerly known as GLAM (Girls Learning About Materials Science) Camp. The week-long camp gives high schoolers the space and opportunity to think like engineers and scientists by taking a deeper look at the materials all around us — from the clothes we wear to the batteries powering our phones and much more.
Cofell's drive comes from feeling "isolated" and "discouraged" as a student interested in a "male-dominated" STEM field. She comes from a lower-income background and was raised by a single mother.
"Since starting my Ph.D. in the MatSE department — an academic and professional achievement that I could never have imagined when I was younger — my priority has always been to give back," said Cofell, a fifth-year doctoral student. "I have strived to change the attitudes and access disparities that can make STEM fields less than welcoming for those experiencing barriers to their educational success based on gender, race, disability and income level."
Cofell's breaking barriers in her volunteer efforts, having served as a camp coordinator for the What it Takes: Exploring Engineering Camp, where she helped lead and design the virtual camp for high schoolers.
Here students explore up to a dozen engineering fields by tuning into presentations and demonstrations. They were also able to have hands-on labs and projects using materials from lab kits mailed to their homes. All activities were led by students from The Grainger College of Engineering at the University of Illinois Urbana-Champaign.
"I put in countless hours to pack supplies and teach Zoom lessons for 400 to 500 students nationwide each summer," Cofell said. "My proudest moment was hearing a testimonial from a student who said that she had appreciated the MatSE unit so much that she was now considering it as a major for college the next year."
Modeling mentorship
Porras-Gomez couldn't agree more with Cofell, sharing that she, too, had no model to serve as a foundation of what it's like to work in the STEM fields.
"Being a woman of color and having no STEM role models growing up made me quickly aware of the lack of opportunities for underrepresented and underprivileged young people to be and thrive in these areas," Porras-Gomez said.
To flip that script and bring about much-needed change, Porras-Gomez aims to provide a greater sense of role modeling and encouragement.
"Representation really matters," Porras-Gomez said. "Young, underrepresented groups will visualize themselves taking STEM paths when they regularly see people who look like them in these roles."
"Furthermore, this population needs encouragement and support to realize their potential and capability to become the next generation of leaders in STEM," Porras-Gomez added. "The question is no longer whether diversity in STEM leads to better outcomes, but how to obtain the best out of diverse teams."
Porras-Gomez looks no further than herself to fill the shoes of a role model encouraging diversity in STEM. She's already recruiting the next generation of materials scientists and engineers by getting them involved in the the U of I's Worldwide Youth in Science and Engineering STEM-based summer camps for middle and high school girls.
For the last two years, the fourth-year doctoral student has also been involved with the Illinois Materials Research Science and Engineering Center's outreach opportunities.
Her favorite one? Cena y Ciencias, or the Supper and Sciences Program.
Here Porras-Gomez designs and leads lessons and experiments in Spanish for Hispanic 4- to 14-year-olds. She also provides accessible materials that explain the science and engineering behind all the fun concepts. Porras-Gomez' creative streak even led her to filming a video in Spanish, sharing what a day in the lab looks like.
This summer, she's the grad student coordinator for the Mid-GLAM Camp, and she has been organizing and preparing lab experiments for the middle school girls.
"I visualize a world where people can thrive in STEM independently of their appearance and social identities," Porras-Gomez said. "I believe we can build safe, open and inclusive environments if we become conscious of our own biases and commit to supporting untapped minorities."
They've only just begun
The two are thrilled to have been selected as award-winners for their progress in diversity, equity and inclusion efforts, but they also agree that their work is far from done.
Cofell's aspiring to have a career in the industry and as she enters the workforce, she aims to use her leadership skills to start her own DEI outreach program to broaden available options for employees and students.
"STEM outreach will always remain at the forefront of my work," Cofell said. "I truly believe that we have the ability and duty to create equitable STEM learning and workplaces — places where people from all backgrounds can be welcomed, feel heard and succeed."
Porras-Gomez aims to initiate opportunities for underrepresented groups, keeping all actively engaged in STEM.
"My goal is to support and give other people the leverage they need to succeed," Porras-Gomez said. "In my doctoral path, I have found mentorship to be pivotal in retaining underrepresented groups in STEM. Beyond being a research advisor, (associate) professor Cecilia Leal has been a real mentor. To me, the difference is that mentors are also role models."
It's that determination to inspire the next generation of underrepresented groups to explore STEM education and career paths that makes Leal incredibly proud.
"We were just impressed by the fact that Emiliana and Marilyn have been contributing to MatSE outreach and DEI activities through organizing summer camps, the MatSE After School Academy (and) outreach at schools almost since day one of starting or even before their Ph.Ds. at MatSE," Leal said.
Leal hopes that Cofell and Porras-Gomez' leading-by-example approach continues to aspire MatSE graduate students to keep pushing the diversity needle further and further.
"My hope is that beyond their amazing science and teaching, MatSE graduate students lead the way showing us all that true excellence is achieved when we foster a supportive, diverse, equitable and inclusive environment," Leal said.
Make an Impact
Your gift to the Materials Science and Engineering Priority Fund provides vital, unrestricted support that allows MatSE at Illinois to strategically invest in critical initiatives that will transform the student experience, drive world-changing research, and address social justice in engineering education and research.