Gaining 'confidence': Hernandez engages with Nobel laureates, esteemed scientists at Global Young Scientists Summit
URBANA, Ill. — In a room full of the world's top scientific minds, you'll find a materials science and engineering student actively participating in solving global problems.
Erick Hernandez is sheer proof. The MatSE graduate student recently attended the Global Young Scientists Summit held in Singapore earlier in January. He was one of 10 University of Illinois Urbana-Champaign students who got to engage with the summit's 21 Nobel laureates and esteemed scientists.
Hernandez was "pretty excited" when he found out his name was tacked to the list of 10 lucky UIUC students who would be traversing to the prestigious three-day summit held at the Singapore University of Technology and Design.
His favorite part of the experience? A panel discussion on science and society that challenged the researchers to better society by getting involved in different arenas.
"It wasn't just talking about their research, but ways to better society or whether we should be involved in policy outside of our scientific pursuits," Hernandez said.
That and the new cutting-edge research being paved in the areas of machine learning and artificial intelligence applications.
"Getting their perspective on how they see the field evolving was an interesting discussion," he added.
The 10 Illinois students also got to do a bit of exploring as their plane landed earlier than expected — 6 a.m. local time. They fought off the jet lag by site seeing. Hernandez's favorite stops included a nighttime light show and a stroll through the National Orchid Garden.
"It was great to get to know the other nine students, and we got to spend 12 hours just walking around the city." Hernandez said. "It was tiring but worth it in the end because we really got to see the city before the summit started."
Hernandez's takeaway from time spent with the think tank of scientific minds was to have confidence in his work.
"One of the common messages that the speakers were trying to leave was even if other people tell you your research isn't going to be a breakthrough, it might just end up being a breakthrough," Hernandez said. "Having confidence in your work really goes a long way in realizing the necessary big steps forward that may advance your field or even create a new field."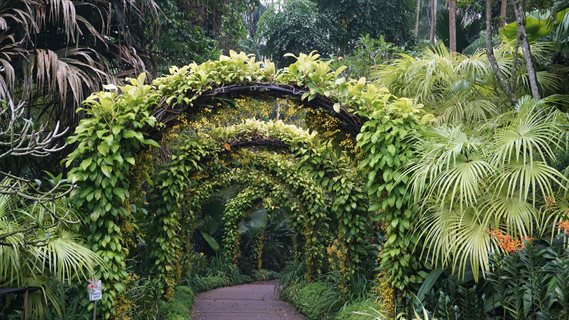 The brilliant minds in that room had experienced their fair share of criticism from fellow researchers telling them that their work was impossible or incorrect. Keeping that in mind is going to be invaluable to Hernandez as he moves forward in his career.
"Just keep persevering on the road ahead and be aware of the people around you that you're working with as you're trying to accomplish something bigger," he said.
This once-in-a-lifetime opportunity to converse with some of the world's most brilliant minds isn't lost on Hernandez. Should the opportunity come a knocking for other materials science and engineering students, he urges them not to hesitate.
"Take advantage of it," Hernandez said. "That's the most important part. These sort of emails are easy to ignore, where you just see that there's a call for awards and you either dismiss yourself as not qualified or you think you're not at the right stage in your education to go. It's better to apply than to miss out entirely."
***
The 10 U of I graduate students who were selected to attend the Global Young Scientists Summit include:
Maha Alafeef, Bioengineering and Biomedical Engineering
Ian George, Electrical and Computer Engineering
Erick Hernandez, Materials Science and Engineering
Colin Lim, Bioengineering
Jongwon Lim, Bioengineering
Akshayaa Magesh, Electrical and Computer Engineering
Ye-Ji Mun, Electrical and Computer Engineering
Sierra Raglin, Natural Resources and Environmental Sciences
Pranay Thangeda, Aerospace Engineering
Chengzheng Yu, Agricultural and Consumer Economics