4/7/2022 Emily Jankauski and Maddie Weller
Seonghwan Kim and Kastan Day, MatSE and Computer Science graduate students, are two of the challenge I winners from the week-long Artificial Intelligence, or AI, Hackathon in Molecular Dynamics held earlier in January.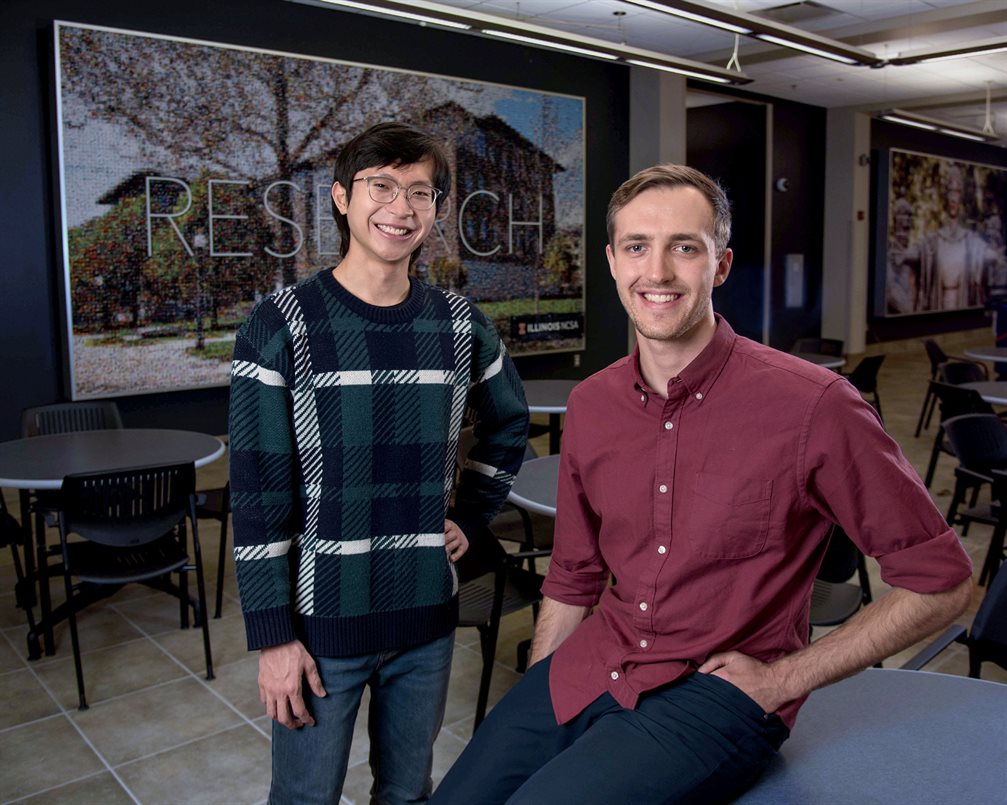 URBANA — Seonghwan Kim and Kastan Day, MatSE and Computer Science graduate students, are two of the challenge I winners from the week-long Artificial Intelligence, or AI, Hackathon in Molecular Dynamics held earlier in January.
The five-member team also included graduate students Aria Coraor, of The University of Chicago, and Jiahui Yang and Ruijie Zhi, both of Northwestern University.
"Working collaboratively is very important," Kim said. "The world's gotten more diverse, it's very important to work with different people using our common languages, not jargon. It was very important to transmit our ideas easily, so that they could understand."
Their task? Predicting randomly sequenced copolymer properties.
Copolymers help make materials like polyethylene-vinyl acetate, or PEVA, which is found in household items like shower curtains. They use two or more monomers, which are molecules that bond with their identical molecule, which link together to form a polymer — the substance used to make plastic.
Fear of the unknown
The challenge was quite the undertaking for the grad students as it got them out of their comfort zones.
Day admits he was unsure of participating at first because the hackathon focused so heavily on molecular science.
"I don't really know much about molecules or that domain of science," Day said.
Kim, on the other hand, felt uncomfortable with a computer science approach to developing and optimizing a machine-learning algorithm.
"I learned a lot of computer science from the other students," Kim said. "It's pretty cool to learn their (the computer science students') skills (and add it) to my research."
But the pair didn't let fear of the unknown stop them. After a week of coding and using machine learning, their team came out victorious, which is something Kim credits to their "physical interpretation" of results.
"In machine learning, it's often desirable to understand the hidden representation of a model to learn which features it's focusing on and to learn how it makes decisions so we can better understand our research question." Kim said. "Our team tried to make a physical and meaningful interpretation of our results."
Unfortunately, the best models are also the "least interpretable," Day said.
"This motivated some of our modeling choices, like our use of kernel functions and decision trees, which aided in (explaining) our solution," Day added. "Without those, (it) would have been simply an unexplainable, convolutional neural network."
Argonne National Laboratory, co-sponsor of the AI hackathon along with the U of I's National Center for Supercomputing Applications and The University of Chicago, awarded the team with internships and graphics cards.
Collaborating for the win
The graduate students' takeaway? Collaborating with peers of different fields and skillsets to solve real-world problems.
"It's the satisfaction of solving a thorny scientific problem on a cross-functional team of scientists and learning how to pull out the key factors when someone is talking in kind of really a foreign language of molecular science," Day said.
The hackathon became much more than a showdown of technical know-how; it became a crash-course in communication.
"(That) was a great thing to practice," Day added. "Trying to keep asking follow-up questions to understand what parts are going to be relevant, and maybe they don't know exactly and (you're) figuring out what they do and don't know."
Regardless of the outcome, Kim knew going in that this would be an invaluable opportunity because of its real-world experience.
"My goal is to understand and develop more useful materials for people around the world," Kim said. "I was already doing some research on bridging polymer science and machine learning, and this experience was very helpful in winning this hackathon. I'm very thankful for professors Nick Jackson and Charles Schroeder (Kim's co-advisors) who introduced this event to me."
Kim's confident he'll carry this opportunity with him through the remainder of his graduate journey. He aspires to go into polymer design, using his education to develop more useful and effective materials.
"I don't have a specific preference, whether industry or academic," Kim said. "I want to do a job that's helpful to other people and (that) I also find enjoyable."
Day, on the other hand, hopes to conquer technical challenges using AI in the industry.
"Things that really attract me have been in bio informatics sciences as well, like protein folding and drug discovery (and) drug target prediction," Day said. "There's a lot of really innovative work in the data science for biomedical applications. I also really like the energy grid and trying to do energy grid optimization and demand prediction with AI as well."
To read more about the step-by-step process of Day and Kim's Illinois AI Hackathon efforts, check out Day's blog post