Grainger Engineering, Beckman Institute to lead $10M DOE grant
Grainger Engineering, Beckman Institute to lead $10M DOE grant
The University of Illinois Urbana-Champaign has received a $10.65 million grant from the U.S. Department of Energy's $400 million initiative seeking institutions across the nation to lead 43 Energy Frontier Research Centers over the next four years to help meet President Biden's goal of reaching a net-zero emissions economy by 2050.
Written by Emily Jankauski
URBANA, Ill. — The Grainger College of Engineering and the Beckman Institute for Advanced Science and Technology are ramping up immediately to house the Energy Frontier Research Center for Regenerative Energy-Efficient Manufacturing of Thermoset Polymeric Materials to address fundamental scientific challenges facing manufacturing and end-of-life management of thermoset plastics. Nancy Sottos, department head of materials science and engineering, Swanlund Endowed Chair, Center for Advanced Study Professor and a researcher at the Beckman Institute, will serve as the principal investigator and center director for this effort.
"I'm thrilled to welcome this Engineering Research Center to The Grainger College of Engineering," said Rashid Bashir, dean of Grainger Engineering. "I am proud to say that this collaborative effort with the U.S. Department of Energy will be housed at our campus, where faculty and students will innovate upcycling solutions that redefine the lifecycle of these materials."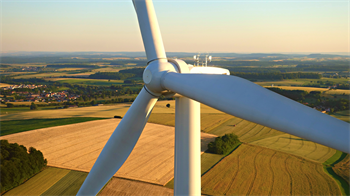 Thermoset polymers and composites have all the necessary chemical and mechanical properties for achieving lightweight, durable structures in the aerospace, energy and transportation industries — from aircrafts and drones, electric vehicles and wind turbine blades, and electric vehicles and trains. Unfortunately, these materials are unsustainable due to the vast energy input required for initial manufacture, long cure times to develop desired structural properties and lack of end-of-life strategies.
"Thermoset polymeric materials have to be strong and stiff and have really long lifetimes," Sottos said.
The downside of thermoset polymeric materials occurs at the beginning and end of their lifecycles. They require copious amounts of energy and time to be processed in football-field-sized autoclaves, and they have no end-of-life strategy, according to Sottos.
"A lot of the wind turbines were rated for 30 years, and they're hitting their 30-year life cycle right now, so they're taking them out of commission and basically taking these giant composite structures and just putting them in a landfill," Sottos said.
Unlike other plastics that can be recycled, like water bottles, thermoset polymeric materials cannot be broken down and reused due to their specific polymer structure, known as a permanent network polymer. But that indestructible structure is the essence of what has allowed these materials to withstand 30 years of use.
Sottos' team aims to revolutionize thermoset polymeric materials' life cycles in a fundamental project attempting to understand how to design these materials at the chemistry level with end-of-life strategies, manufacture them efficiently and understand how their network evolves over many life cycles.
That nanoscale level of knowledge is of utmost importance as society still does not have a way to efficiently restore recycled and upcycled plastic back to its original standard.
"When you recycle or reuse plastic, it is often not as good as the original. It gets contaminated, and the polymer network actually changes and ages with time," Sottos said. "What we want to do is really understand that process so we can make polymers with the needed properties and performance."
To do that, the researchers will combine additive manufacturing, like 3D printing, with a novel energy efficient curing process known as frontal polymerization that requires much smaller amounts of energy to make thermoset plastics. The goal is to manufacture and upcycle thermosetting polymers by putting the energy already inside of the molecules to work.
"We use a self-energized curing reaction so that you don't actually have to put it in an oven or an autoclave," said Sottos of her work with Beckman Institute's Autonomous Materials Systems Group, which she leads to combine chemistry, materials science, mechanics and computational science in pursuit of materials that are structurally and functionally innovative. "So basically, the reaction to make the polymer is exothermic, and it generates a lot of heat. That heat is able to diffuse forward and propagate, so you can produce cure fronts that move through the material without additional energy input."
This part of the Grainger Engineering team's research will require a great deal of collaboration with experts in materials chemistry, simulation and additive manufacturing to find novel strategies for deconstructing these polymers and creating a way to make the permanent network permanent no more.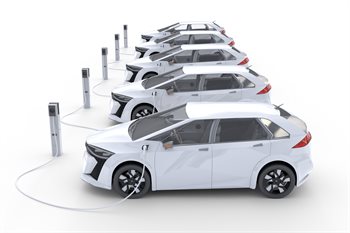 The crew will jump start its research by using machine learning at the soon-to-be-built high throughput characterization lab at the Beckman Institute that will quickly test a large number of potential formulations to narrow them down to the best fit. Similar to the process of taking a paint sample from your living room and matching the color using a hardware store's bank of pigments, the REMAT team aims to utilize machine learning to create a bank of mixing robots that can do this for different formulations of polymers.
"There's really interesting problems for us to work on and educate undergraduate and graduate students in sustainability and manufacturing, which is really critical for them," Sottos said. "It's absolutely essential that we get a handle on the end of life as much as we do in the beginning when we're manufacturing it."
****
Fellow Illinois EFRC collaborators include Jeff Baur, Founder Professor of aerospace engineering and affiliate professor of materials science and engineering; Randy Ewoldt, mechanical science and engineering professor and Kritzer Faculty Scholar; Philippe Geubelle, Bliss Professor of aerospace engineering; Jeff Moore, the Stanley O. Ikenberry Endowed Chair and professor of chemistry; and Sameh Tawfick, associate professor of mechanical science and engineering. Other intuitional collaborators include Harvard University, Massachusetts Institute of Technology, Sandia National Laboratories, Stanford University and the University of Utah.
This is the second U.S. DOE EFRC center on the Illinois campus. The other is a four-year, $12.6 million grant led by Fox Family professor of physics Peter Abbomonte, who aims to develop and apply nontrivial quantum-sensing methods to measure and unravel mysteries associated with three families of quantum materials.