Inspiring alumni: Q&A with IU's Yan Yu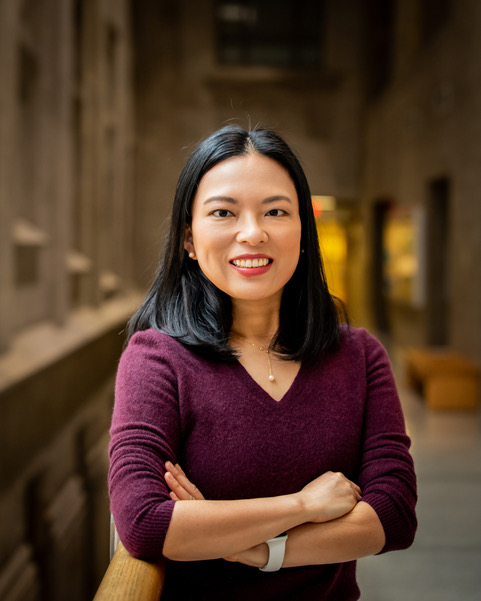 Our alumni are inspiring. Yan Yu, an associate professor at Indiana University's Department of Chemistry, is one of our remarkable alumni.
Yu earned her doctorate from the University of Illinois Urbana-Champaign Department of Material Science and Engineering in 2009 under the guidance of her then-advisor Steve Granick, a U of I Department of Chemistry adjunct professor and the director for the Basic Science Center in Ulsan, South Korea.
Let's catch up with this alumna to see how her time at MatSE at Illinois helped prepare her for her career.
****
Q: What made you interested in materials science and engineering?
A: "I did polymer synthesis during undergraduate at Peking University (in Beijing,) China. I enjoyed the synthesis, and (I) was also very intrigued by how functions and applications of polymers are determined by their structures. I wanted to learn more about polymers from the material science perspective."
Q: What made you want to attend the U of I for your Ph.D.?
A: "At the time, when I was considering graduate schools, (the) U of I had reputation among Chinese students of being the university in the corn field with top engineering and science programs. I also had the opportunity to meet professor Steve Granick, who was (a member of the) faculty at MatSE at (the) U of I and later became my Ph.D. advisor.
"When he visited Beijing for a symposium in (the) summer (of) 2004, I sat at his talk and was blown away by the science he presented, especially the amazing fluorescence microscopy images of polymers. That was the first time I had seen videos like those. At that time, I knew that I wanted to work with him for my graduate study."
Q: What are some of your fondest memories from your time at MatSE at Illinois?
A: There are so many. I loved the Soft Matter student talks, where faculty and students often had lively, interesting discussions and sometimes debates.
"I loved the afternoon coffee break at MRL (the Materials Science Research Laboratory) when students gathered to talk about science and life. Our group would always sit in the sofa chairs next to the large west-facing windows.
"I loved the many choices of food on Green Street. When I visited Illinois in 2018, I was ecstatic to see that many of my favorite restaurants were still there."
Q: What kind of research did you conduct during your Ph.D.?
A: "During my Ph.D. in professor Steve Granick's lab, I tried many different projects, but eventually found my love on lipid vesicles. I investigated the jamming dynamics of lipid vesicles as soft deformable particles and (the) interactions of nanoparticles and pore-forming peptides with lipid membranes. Because lipid vesicles are used as models for cell membranes, my research provided insights into the fundamental understanding of nanoscale interactions at biological membranes."
Q: What kind of research do you conduct now?
A: "My research group at Indiana University studies biophysics of immune cells by developing nanotechnology-enabled methodologies. This is built upon my Ph.D. training in material sciences and postdoc training on immune cell biophysics. My lab develops nanomaterial-based tools to monitor many immune processes, to modulate immune cell stimulation, and also to detect host infection by pathogens."
Q: How did your time at MatSE at Illinois prepare you for your current career?
A: "It is without doubt that my five years at MatSE (at) illinois (was) the most important period of time in my career. The Ph.D. program at MatSE made (me) who I am today as a scientist.
"One of the most impactful (moments) for my career was being exposed to the highly interdisciplinary and collaborative research environment in the department. My advisor, Steve (Granick), was also very supportive of out-of-box ideas. I am cultivating this kind of open-minded, vibrant and collaborative spirit in my own research lab."
Q: What advice do you have for current MatSE at Illinois students?
A: "MatSE (at) Illinois is a great place with tremendous resources and opportunities. My advice would be (to) be proactive in taking advantage of those opportunities to help you achieve your dream."
Q: What do you cherish most about your time at the U of I?
A: "I am forever grateful for the vigorous science training I received at U of I. More importantly, I cherish all the mentorship and friendship I have made there."
We want to hear from you!
MatSE at Illinois alumni, share your inspiring journey and empower current students. Fill out an alumni Q&A form.