Making the materials connection: MatSE students attend TMS' annual Meeting and Exhibition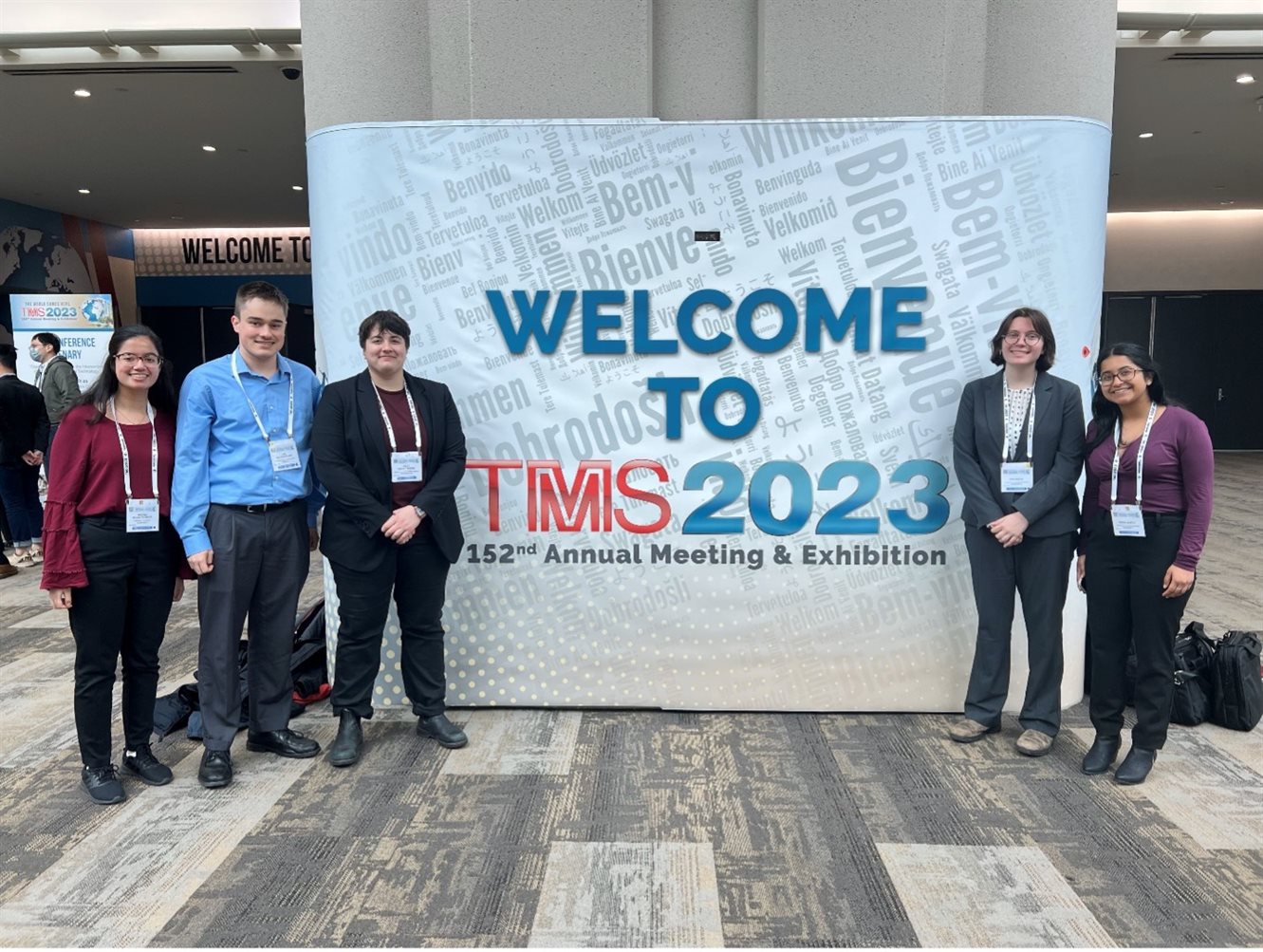 SAN DIEGO, Calif. — We're endlessly determined to work toward a brighter future. Look no further than Jac Copeland, Kira Martin, Regina Raemsch, Krisha Sampat, Abby Sreden and Ray Tsai for proof. The six MatSE undergraduates attended The Minerals, Metals and Materials Society's, or TMS, annual meeting and exhibition in San Diego, Calif. from March 19-23.
TMS is a global organization connecting professionals to the minerals, metals and material science fields who work in academic, industrial and government positions. The organization provides MatSE students access to scholarships and network-building activities. The three-day conference brings together more than 4,000 professionals to exchange cross-disciplinary knowledge.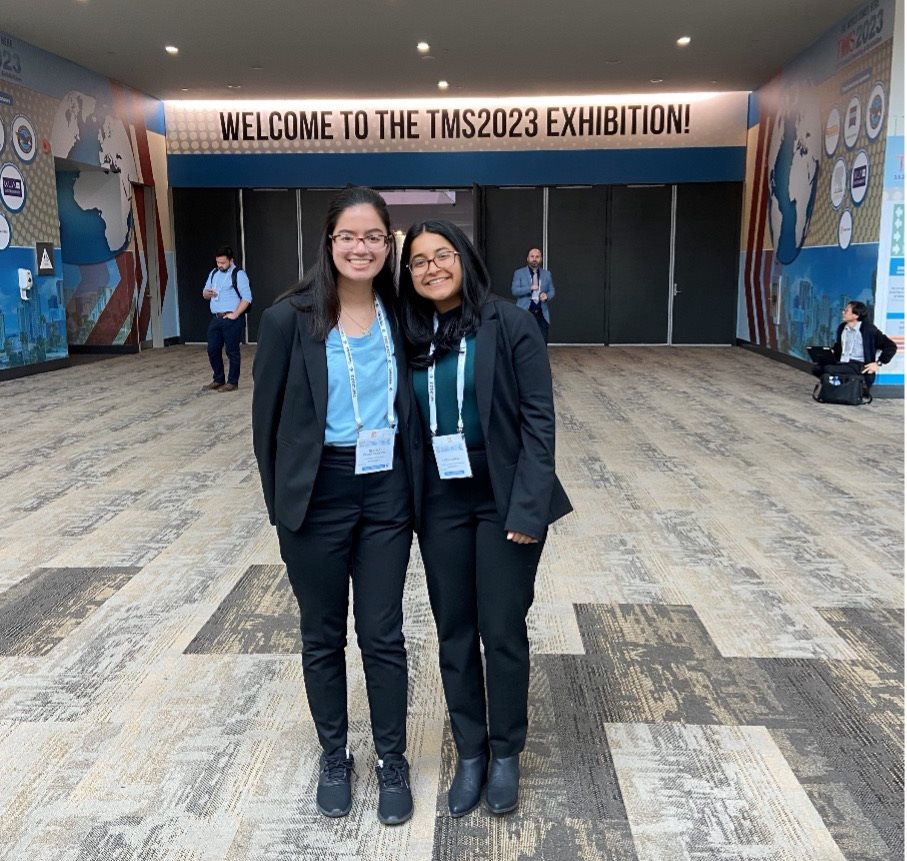 Gaining a 'broader understanding'
For freshmen Jac Copeland, this was his first materials science conference ever.
His favorite part of the conference? Being around so many materials scientists and attending technical talks, especially those about renewable energy and batteries.
"It was really inspiring and exciting to see so many different approaches to tackling similar problems and hear new ideas in the materials for renewable energy space," Copeland said. "The field of material science is even broader and more diverse than I initially realized, and I hope I have a chance in the future to present my own work at a conference like TMS."
For junior Abby Sreden, this was her first time attending TMS. She was particularly excited for this conference because of its historical focus on metals.
Her expectations were not let down. Her favorite part of the conference was watching presentations that focused on sustainability in the metals industry.
She also took full advantage of the networking opportunities connecting with local companies and other attendees to learn more about industries related to materials science and engineering.
"Attending the conference allowed me to get a broader understanding of the material science community, and (it) allowed me to explore what future opportunities I might have as a material science and engineering major,"Sreden said.
For junior Kira Martin, this was her second time attending TMS' annual meeting and exhibition. Even though this was not her first rodeo, she still finds immense value in the experience.
Martin had a great time networking with other materials scientists, attending talks and even giving her own talk alongside Sreden in the (insert).
"As someone interested in going to graduate school, I feel that attending TMS has enriched my undergrad experience," Martin said. "It is a great opportunity to network and learn about research currently happening at other universities."
Going bowling
Perhaps the highlight of TMS, for our undergraduates, is the Materials Bowl Competition, a materials-themed knowledge and trivia competition. The Illinois team was made up of undergraduate students Copeland, Martin, Sreden, and graduate student Sara Wonner.
Martin was eager to compete in the materials bowl. As a freshman, she heard from members on MatSE's two student organizations, Material Advantage and Keramos, executive boards how Illinois would always compete at TMS prior to the COVID-19 pandemic.
Martin finally got her chance to be on last year's Material Bowl team and had a blast, so this year, she knew she wanted to do it again.
This year was Sreden and Copeland's first year competing in the Materials Bowl. Sreden was excited to compete to get to know students from other schools and come together in a fun competition.
Her favorite part of the competition was talking with other competitors and spending time with her team.
Copeland was also excited going into the competition, as he likes learning about trivia and all things materials science. During the competition, Copeland expressed that he felt proud to represent the Illinois team. He even got to use some of the knowledge he learned from his freshmen MSE 182 Introduction to Materials Science class, taught by associate professor Pinshane Huang.
While the Illinois team did not place in the competition, the students had a blast and are excited to return next year to compete and hopefully take home a winning title.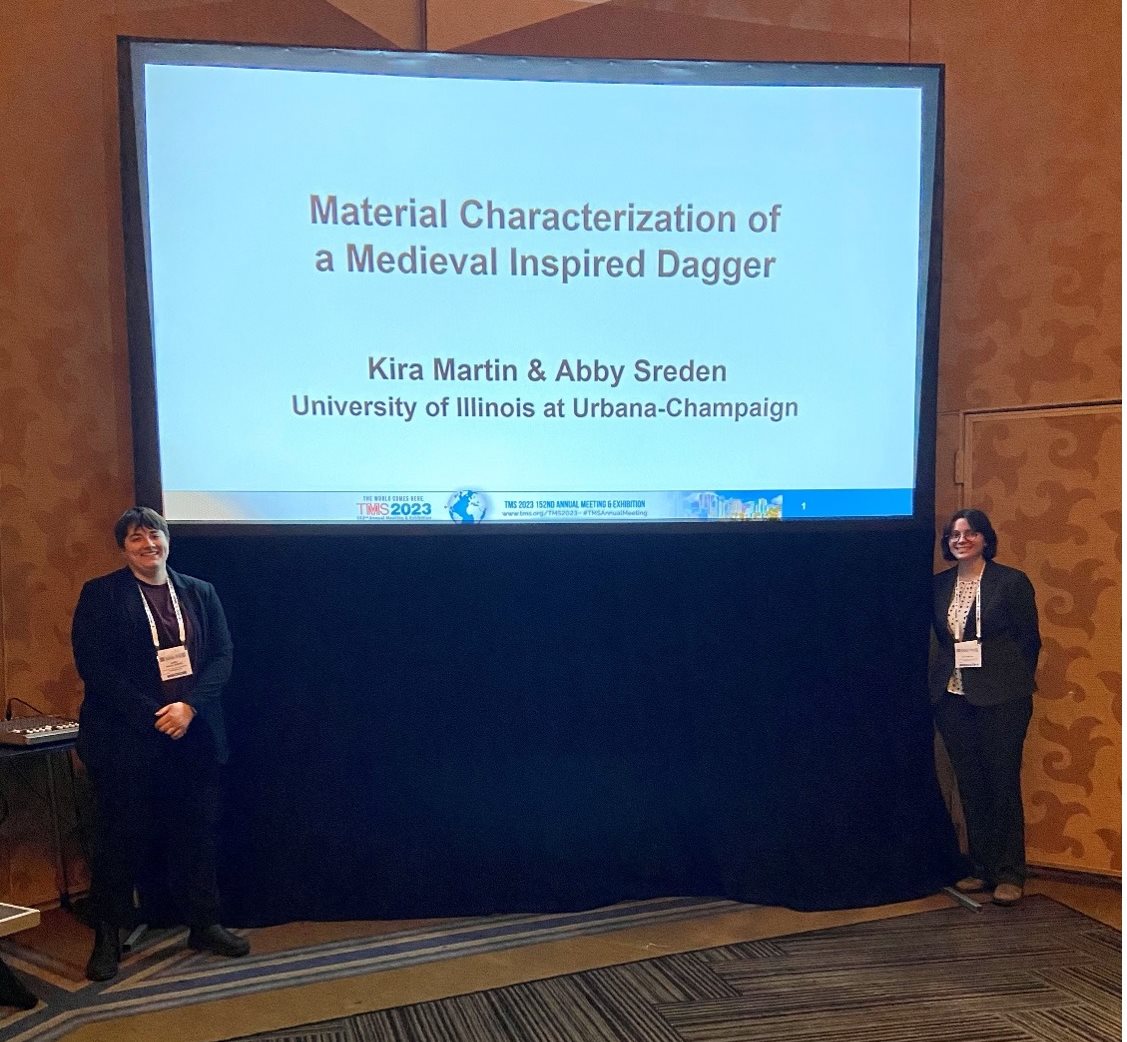 Bladesmithing Symposium
Another activity that our undergrads participated in at the TMS conference was the Bladesmithing Symposium, which is held every other year at the TMS conference alternating with the Bladesmithing Competition. The symposium features technical presentations focusing on bladesmithing processes and procedures.
Over the last two semesters, juniors Martin and Sreden created their own dagger — a Damascus blade — with the help of assistant professor Marie Charpagne. Together they characterized the mechanical properties and microstructure of the blade and presented their findings during the symposium.
Going above and beyond
The TMS annual Meeting and Exhibition is a great opportunity for students to interact with materials science professionals in various fields outside of the classroom. Our students go above and beyond every year in representing Illinois at these conferences.