Planting sustainable seeds
Edgar Mejia is inspiring the next generation to think sustainably. The MatSE grad student recently delivered a workshop — all in Spanish — inspired by his passions, on sustainability and preventing plastic waste to a group of students at Leal Elementary School in Urbana, Ill.
Written by Emily Jankauski
URBANA, Ill. — For the good, not the glory. That's Edgar Mejia's motto. The MatSE grad student recently led a bilingual elementary workshop on polymer recycling for the National Science Foundation's Center for the Chemistry of Molecularly Optimized Networks program, or MONET, at Leal Elementary School in Urbana, Ill. earlier this semester.
The MONET team is comprised of senior investigators from all over the world working to transform molecular understandings of polymer — the material plastic's made of — networks.
Jeffrey Moore, Chemistry professor, and Nancy Sottos, Swanlund Endowed Chair and MatSE's department head, are Illinois' MONET leads. Together they direct a group of grad students from The Grainger College of Engineering, including Julia Goeks (MatSE), Mejia and Yunyan Sun (Chemistry).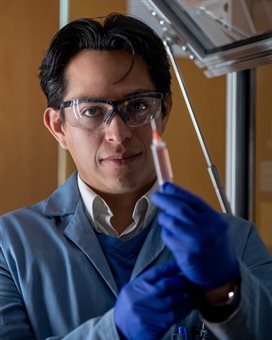 Inspiring the next generation
The idea to lead a workshop all started when Mejia was an undergrad serving as a volunteer for the Urbana Public School District's bilingual program called Cena y Ciencias, or supper and science.
The program's roots are in the Parent Advisory Council of Leal Elementary School's Dual Language Program, which got its start after parents expressed concern over their children, who are bilingual, not receiving enough science education in the program.
Cena y Ciencias is now led by DLP parent faculty members at the University of Illinois Urbana-Champaign, the U of I's Society of Advancement of Chicanos and Native American Scientists, and the U of I Extension 4-H Youth Development program and provides children and their families engaging science lessons.

Sparking curiosity
Mejia's workshop was inspired by his scientific passions — sustainability and preventing plastic waste.
His first presentation was on the true value of plastic, and it was given entirely in Spanish.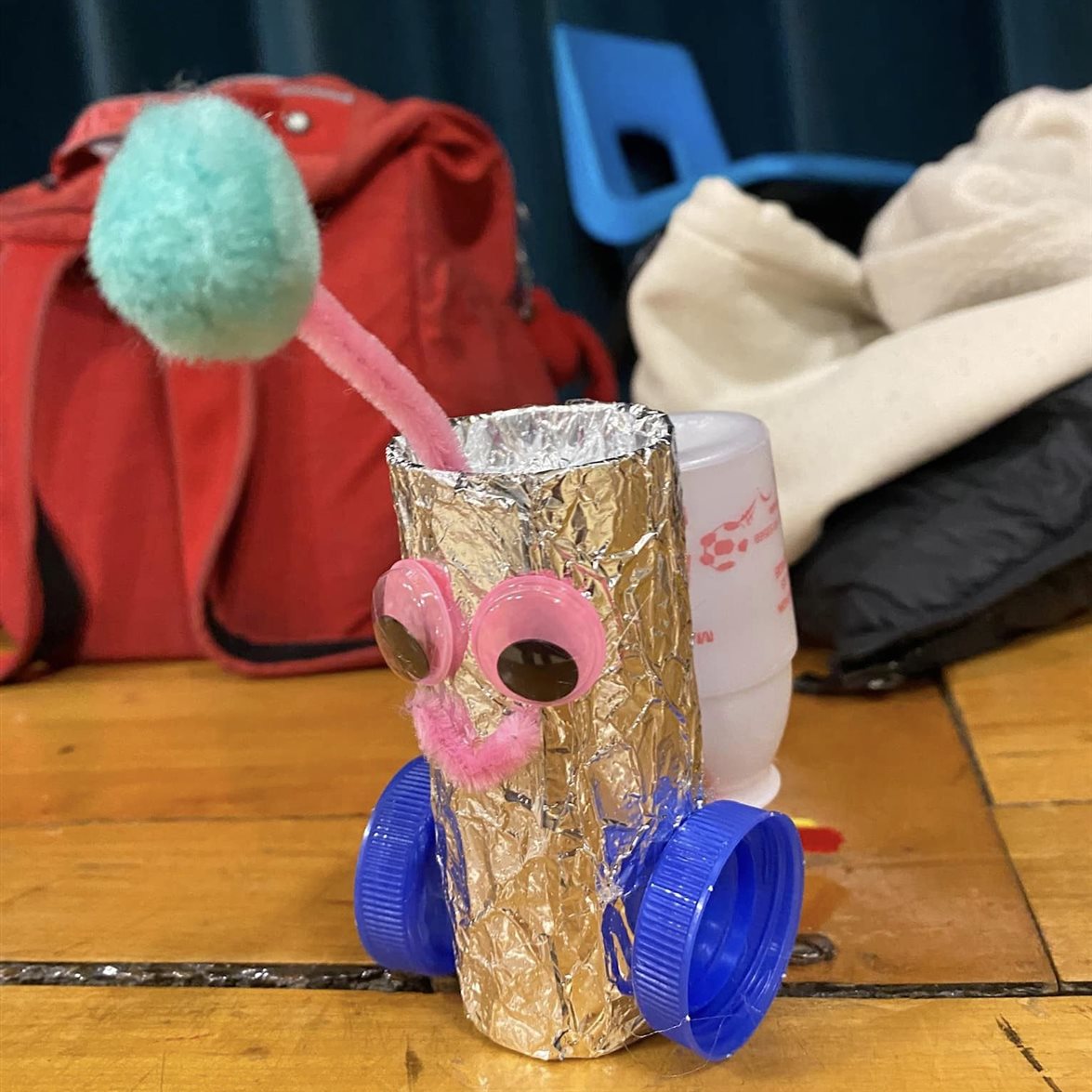 He posed the question: are plastics good or bad?
"We wanted to hear what the kids would say, but then tell them that by themselves, plastics are not good or bad. It's the way that we use it," Mejia said.
Children got hands-on experience in sustainability by upcycling shreds of a plastic milk jugs and turning them into coasters. The made this happen by injecting the shredded plastic into a machine-based molding and using the blueprints and instructions from Precious Plastic's injection starter kits to form a coaster.
Mejia also encouraged the kiddos to build a toy made from recycled parts from their homes.
He wrapped everything up by sharing individual actions students could implement in their daily lives to help sustainability efforts.
"We're planting the seeds of making things more sustainable," Mejia said. "We also wanted to spark their curiosity and walk away saying 'Wow! I want to know more about that.'"
His favorite part of leading the workshop? Those ah-ha moments with the kiddos.
"It's that transfer of knowledge to another person," said Mejia, who hopes he can make a difference by getting more students interested in sustainability efforts.
Nuturing the seed
For Mejia, education has been a change-of-life experience. He holds an undergraduate degree in mechanical engineering from Grainger Engineering and a master's degree in materials science from Khalifa University (Abu Dhabi, United Arab Emirates). It was during his undergrad that he was mentored by Hector Lopez Hernandez, a former Beckman Institute graduate research fellow, who truly impressed Mejia with all the possibilities sustainability research holds.
For Mejia, the workshop was a full-circle moment as he experienced a knowledge exchange during his undergrad work and is now passing it on to the children in the bilingual program during his graduate work.
"For me, promoting these topics or doing research in these areas, is helping other peoples' lives," he said.
In making the jump from undergraduate coursework to grad school, Mejia's watched his horizons broaden. In his undergrad, his focus was mostly all on campus, but now that he's in grad school, it's shifted to the Champaign-Urbana community.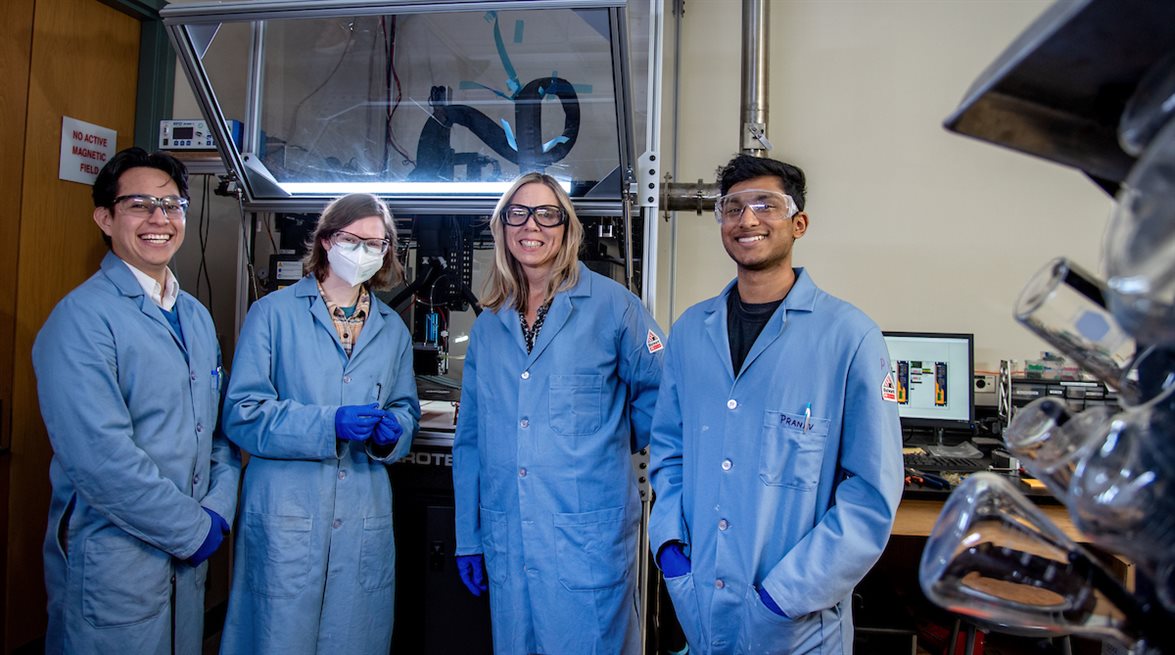 "It's very interesting to notice the privileges that we as university students have, but once you look a bit broader to the outside community, you see that they have a lot of challenges," Mejia said.
This opportunity has planted a seed in Mejia's heart, and it's one he hopes grow and nurture.
"A good pursuit for the rest of my life would be trying to give back wherever I go," Mejia said.