Perry receives American Ceramic Society's Richard M. Fulrath Award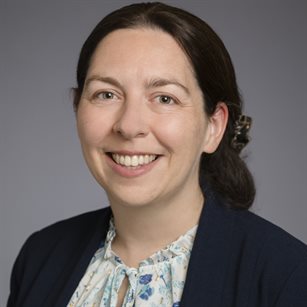 URBANA, Ill. — We don't just make a difference; we create the difference. Nicola Perry is sheer proof. The MatSE assistant professor is the recipient of the American Ceramic Society's Richard M. Fulrath Award in the American Academic category, which recognizes individuals for demonstrating excellence in research and development of ceramic sciences and materials.
Perry's research focuses on solid-state ionic materials that enable sustainable energy conversion and storage with electrochemical technologies. Her research impacts fuel cells generating power without pollution, green hydrogen production by using electrolyzers and safer all-solid-state batteries.
"Our work is crucial," Perry said. "These alternative energy solutions limit greenhouse gas emissions that otherwise would contribute to climate change."
Perry will be recognized at the American Ceramics Society's Honors and Awards Banquet during its 125th annual meeting held Oct. 2 in Columbus, Ohio.
She has also been invited to present a paper at the Materials Science & Technology Conference and Exhibition, which is also held in Columbus from Oct. 1-4.