Resounding confidence: Seniors flex their materials science know-how
Resounding confidence
MatSE seniors get the chance to flex their materials science know-how and solve real-world problems with materials-based solutions in their Senior Design course. The annual project presentation day gives undergrads an invaluable sense of pride and accomplishment that they're sure to carry on with them in the next chapter of their careers.
Written by Emily Jankauski
URBANA, Ill. — Our undergraduates are driven to discover. MatSE seniors work to all semester in their Senior Design course to provide materials-based solutions for real-world problems.
Students put their culmination of materials science know-how on display by presenting their findings in more than 40 projects during the annual presentation day held at the Campus Instructional Facility on May 5.
For course instructor Matt Goodman, the course gives students the space to flex their problem-solving skills and be curious about the world all while drawing connections from their previous courses and experiences.
"This is their last foray into team building and teamwork," Goodman said. "This gives them, hopefully, a good foundation for subsequent career moves."
Improving Athletic Tape
Undergrads Steven Endres, James Heaton, Suhaas Sura and Aleah Treiterer worked on making material improvements to athletic tape.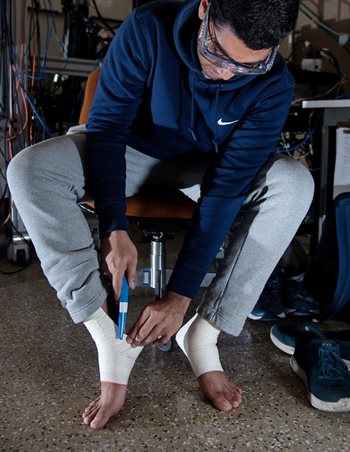 Treiterer, the dreamchild behind this project, just wrapped up her senior year on the Fighting Illini's soccer team.
"Our goal is to try and find a way that we can have an easily applicable tape that is also very good at preventing injuries," said Treiterer, a two-time Academic All B1G (2020, 21) and 2020-21 B1G Distinguished Scholar.
For Endres, the research effort was a fun way to put himself in someone else's shoes — or cleats, rather.
"We're not usually the ones getting our ankles taped," Endres joked. "It's cool to feel how the athletes feels when they get their ankles taped."
The team focused specifically on the kinds of tape problems athletic trainers see every day, by interviewing Fighting Illini athletic trainers, reviewing other mechanical testing data available and conducting their own analysis to come up with the best ankle tape possible.
For Heaton, the project hit home, as he shared football "absolutely destroyed" his father's body from playing in the late '60s.
"They didn't have pre-wrap," Heaton said. "When they put it on you, they just put it on bare skin, so a lot of tape cuts, a lot of pulled hairs."
Improving the lives of athletes as well as every day folks is of top of mind for these MatSE seniors, who hope to make strides in athletic tape material selection.
"You have athletes, but also just everyday people who can have a little bit of extra support to prevent them from having more long-term detrimental injuries," Treiterer said.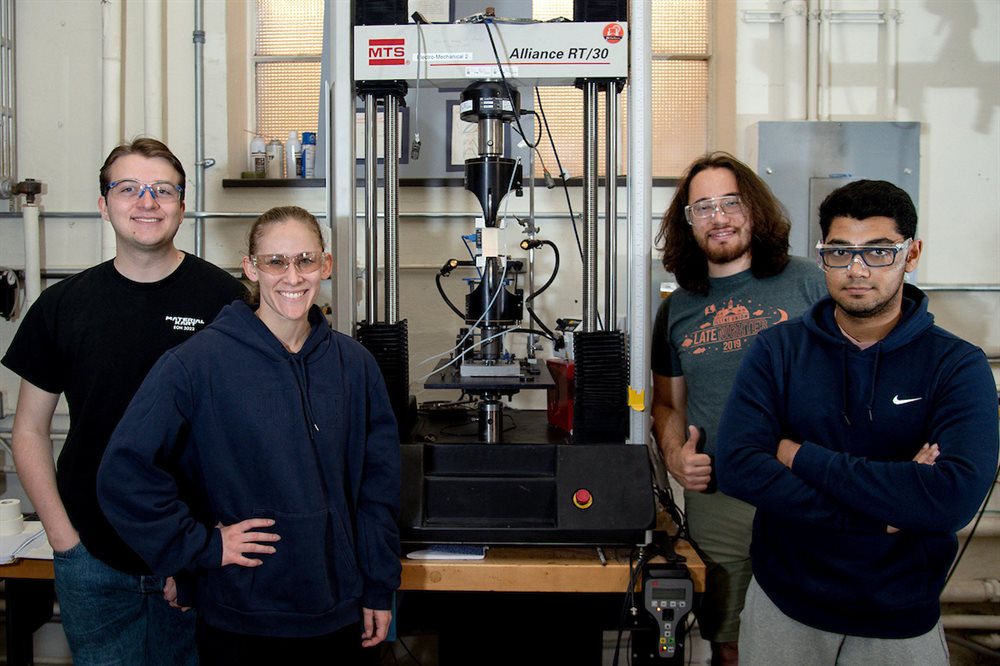 Creating Biodegradable Alternatives to Styrofoam
Shawn Choi, R.J. Flores Mangaran, Sara Pfeil and Montse Solis researched biodegradable alternatives to Styrofoam packaging to help boost sustainability efforts.
"A lot of people use (meal kits) and if you're not careful about the sustainability, it is something that could end up having a very negative impact," Solis said.
The team has been working with creating biodegradable foams using a starch from the cassava plant, an ingredient commonly found in tapioca pudding or boba tea.
The team used polyvinyl alcohol, a biodegradable polymer — the material plastic's made of — to reinforce the cassava starch given its it's a water solubility and uses in various biomedical applications.
"It's biodegradable," Pfeil said. "But it (polyvinyl alcohol) adds ductility to the foams because on its own, starch can be brittle. We're using polyvinyl alcohol to increase the ductility so that it doesn't crumble when you make a foam with it."
They created a gel using the cassava starch and polyvinyl alcohol, and then freeze-dried it. Next, they placed it under low pressure to sublime the water off, which results in the porous structure needed for their alternative material.
"(We're) working towards making those types of packaging materials have high compressive modulus and low thermal conductivity (to) keep them cool and safe for consumption," Solis said.
For the crew, being able to resolve a real-world problem and be the ones to utilize resources to leverage a solution, was an unmatchable experience.
"That is what engineering is," Solis said. "(It's) taking the initiative and being like, 'OK, let me do some research. Let me see what other people are doing. How can I do it differently? How can I build on it?' Those are really important steps."
Pfeil couldn't agree more, sharing that the experience has better prepared her for challenges she'll likely face in her next chapter of life.
"One of the most underrated parts of this experience is you have an open-ended problem where you don't really know what the answer should be or what approach you should take. A lot of times, you have to go and search for the resources that you need; they're not just handed to you," Pfeil said. "I think that's very similar to what work out in industry is like, where it's you have this problem, and you have to access your network a lot to be able to get the resources that you need to get the project done."
Redesigning Steering Wheels
Max Johnson, Nathan Levandovsky, Haoran Liu and Ryu Suzuki made material improvements to a steering wheel for the Off-Road Illini team, which competes in the SAE Foundation's Baja Collegiate Design Series.
The team attacked the problem from two different perspectives — material selection and user-centered design. The researchers surveyed more than 50 people and created six designs before narrowing it down to the final product.
"We came up, figured out what aspects of certain wheels they like, and then took different aspects of the wheel and combined it into one steering wheel that had all the good, positive sides from all six designs," Suzuki said. "Having that come together and bringing it into the material space . . . it feels very full circle."
Unlike many other projects, this team was serving an existing client.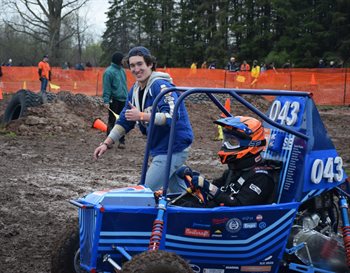 "We had previous opinions going into it about what worked and what didn't work," Levandovsky said. "That really allowed us to have good footing when moving forward and trying to redesign."
"It was really fun to be able to not only create a steering wheel, but then actually talk to the people who'd be using it," Levandovsky added.
Johnson, who also serves as an Off-Road Illini team captain, enjoyed getting to exercise his creative liberties in the effort.
"(Goodman's) letting us figure it out, and we're pacing ourselves how we want to," Johnson said. "That feels a lot more like the real world, and that's something I enjoy."
Exuding Confidence
More than anything, the MatSE seniors enjoyed the course's gift of autonomy.
Their resounding confidence gained from the course exuded from the halls of CIF during the presentation day.
That invaluable sense of pride and accomplishment is sure to carry on with them in the next chapter of their careers.