South African study abroad trip inspires three MatSE students to always keep a 'global mindset'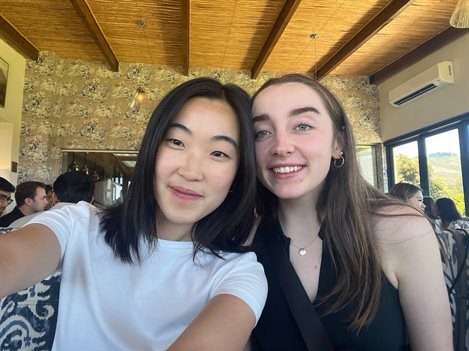 URBANA, Ill. — Well-rounded — that's the attribute students aim to describe themselves by the time they're walking to the beat of "Pomp and Circumstance." That's a word Meghan Oh, Katie Roche and Shivam Tailor, all materials science and engineering undergraduates, will tack to their resumes thanks to a recent study abroad trip to Cape Town and Johannesburg, South Africa over the winter break.
The MatSE students traveled with their fellow members of the Hoeft Technology and Management Program, a joint minor within the Gies College of Business and The Grainger College of Engineering where students develop comprehensive problem-solving skills. The Illinois crew learned a great deal about international business by visiting corporations like Caterpillar and a half dozen other local ones as well.
Their favorite part of the trip? Visiting with businesses in the Khayelitsha township, an impoverished area of Cape Town.
"It was incredible to see and hear everyone's stories and also learn from them as well," Roche said. "We all learned a lot about South African culture and its history."
Roche emphasized South Africa is only 30 years out from apartheid. What stuck with her was just how visible the implications of those actions are in the township.
"Governmental regulations really affected all of these communities," Roche said. "Seeing that was really important for everyone."
The power of storytelling stood out to Oh during the group's visit with the six Khayelitsha businesses, especially with all the folks she met that day.
"I really felt connected to people in a really profound way," Oh said. "Even having conversations with our tour guide or the bus driver we got to hear some of their family backgrounds or the fact that the bus drive made like $23 a day."
"It was just really sobering to hear a lot of these things," Oh added. "It was really powerful to see them kind of just living their lives and being so joyful and eager to share with us."
Another favorite? Going on a safari through Pilanesberg National Park the last day of their trip.
"We had gotten to know each other pretty well and being able to see giraffes and zebras and everything together made it such a special moment," Roche said. "That's definitely something that will stick with me."
Tailor's wow moment was hiking down Table Mountain, a flat mountain range that towers over Cape Town.
"The views were incredible," Tailor said, "It was strenuous, but you also got to take in the view as you go down and you got to see the city. And then past the city, you got to see the ocean. And in the ocean, you saw Robben Island, which is where Nelson Mandela was held."
Hands down the takeaway from this experience for all three MatSE students was going home with a global mindset.
"Now I want to travel, and I want to incorporate that with my career in the future," said Tailor, who recalls meeting a representative from Caterpillar who lived all around the world staying only a couple of years at a time in each place. "That was really interesting to me, and really opened up that area of work for me because I would have never thought about it."
The adventure also reminded the students of just how big their Illinois family truly is. They bumped into other U of I students on study abroad trips and met with people who went to the U of I or knew folks who attended.
"No matter where you are, the Illinois network is always going to be there," Roche said.
It's that same Illinois family that will be there for them as they step out into uncharted territory, perhaps even launching an international career.
***
This trip was coordinated through the International Programs in Engineering, which provides students with a wide array of study abroad opportunities helping them well on their way to become global engineers.