Study abroad trip 'empowers' Grainger Engineering faculty
Fourteen faculty and staff from The Grainger College of Engineering return anew following a study abroad trip to Petersfield, Jamaica over the winter break.
Written by Emily Jankauski
URBANA, Ill. — Our faculty lead by example. Just ask Daniel Shoemaker, who recently traveled to Petersfield, Jamaica to help clear land to make way for a community farm and garden.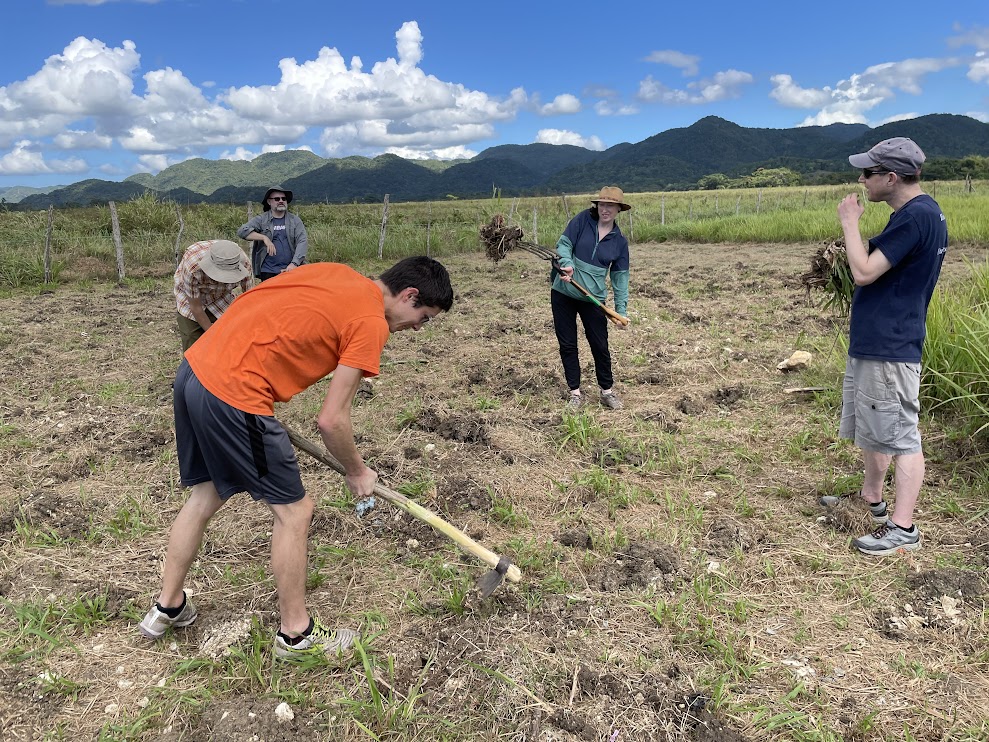 "I encourage students in our department to pursue study abroad programs whenever they can," said Shoemaker, a MatSE associate professor. "When the opportunity came up for a quick trip focused on effective, international engagement for faculty, I jumped at the chance."
Joining Shoemaker were Meredith Blumthal, assistant dean of International Academic Partnerships and director of International Programs in Engineering; Jonathan Makela, associate dean for the Undergraduate Programs Office; and a handful of folks from The Grainger College of Engineering who traveled over the winter break on a faculty-led study abroad.
The Illinois team collaborated with Amizade, a nonprofit providing service-learning experiences and volunteer opportunities for universities, high schools, community groups and companies, and the Petersfield-Galloway Benevolent Society, a community-based organization that started after Hurricane Gilbert struck the islands of Jamaica and Hispaniola in 1988 with its 115-mph winds, killing 26 people and leaving 500,000 homeless.
The Illinois faculty represented only a handful of the hundreds of academics who travel to the island every year to provide community service projects that former site director and Petersfield resident John Brown envisioned. Brown, who passed last year, raised his children here and aimed to help the area become "responsible" and "responsive" to community development.
"This is the only community park in that area, and it's driven by community leaders," Shoemaker said. "The abroad groups come over and we do a little bit, but we're not making the plan; it's their plan and we're honored to do a little part of it."
"It gives them a chance to make people aware of their culture and form connections with locals through home stay groups," Shoemaker added.
Trips like these truly spark local community development, according to Amazaide's Eveth Clarke and Norma Fenton. It also helps showcase the country of Jamaica and highlights its culture.
"It's an opportunity that we enjoy," Clarke and Fenton said, "and it helps empower us."
In return, Shoemaker and the Illinois team gained time for personal reflection and strengthen their connections through activities like making an identity map, which had each group member discerning how they think of themselves and how others perceive them.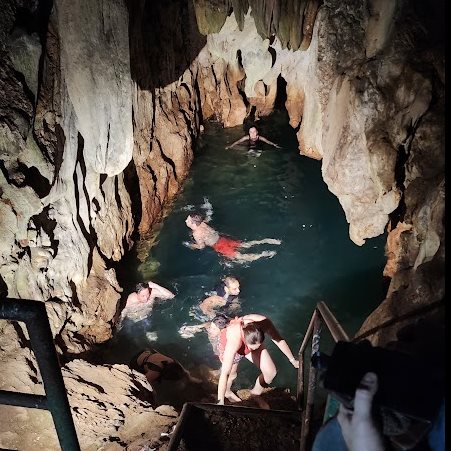 "We got to do these reflection activities together so that we could learn about the people who you're on the trip with, and in that moment we were welcome guests of the community, as Illinois faculty, but we were also outsiders," Shoemaker said. "And you're seeing how you could have groups of different, disparate people come together and build something that persists over a long period of time."
"It was really cool," Shoemaker added. "It felt like a really safe and empowering place to be."
"When you are abroad, it gives you the time to reflect and think about who you are and what you bring to a location or a situation that you're in," Shoemaker said. "It's also an eye-opening opportunity for making connections. You can have an idea for something that you think will be a transformative or exciting experience for students, then you connect with people around campus who can make it happen."
His favorite memories?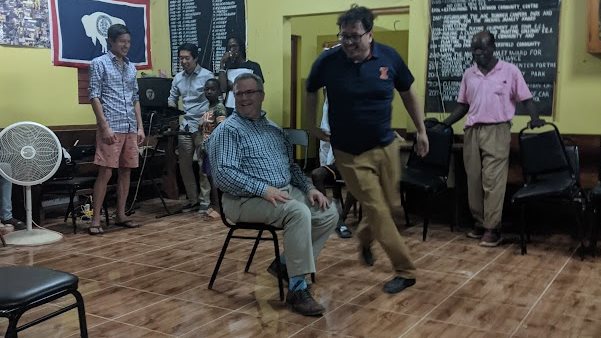 Hands down, playing dice with the local family he resided with while on the trip and playing "heated" games of musical chairs every evening in the community building.
"It was a lot of fun and you become quick friends with everybody who's on the trip, especially getting people from the university out of their comfort zones and into a different surrounding."
This eye-opening experience showed the crew just how impactful trips like these are for the student and faculty members' overall Illinois experience.
"Even short-term study abroad opportunities can have tremendous impact," Makela said. "It was great to take part in the discussions with other Grainger Engineering faculty and staff about how we can make these meaningful opportunities available to more of our students."
The endless possibilities for self-growth and reflection aren't lost on the Illinois faculty. They're already back on-campus championing study abroad trips and plugging in the opportunity when and where they can.
"Everyone is very excited to be engaged in study abroad in a variety of ways — from advising more of their students to go abroad to developing more short-term study abroad opportunities for Grainger students," Blumthal said.
***
The full list of Jamaica study abroad trip participants include:
Abdussalam Alawini, teaching assistant professor of Computer Science
Meredith Blumthal, assistant dean of International Academic Partnerships
Victor Cervantes, associate director of the Morrill Engineering Program
Wayne Chang, lecturer of Mechanical Science and Engineering
Zuofu Cheng, teaching assistant professor of Electrical and Computer Engineering
Brenna Conway, director of City Scholars
Ivan Favila, assistant dean of Undergraduate Programs
Keilin Jahnke, teaching assistant professor of the Technology Entrepreneur Center
John Mahlmeister, senior coordinator of Engineering Career Services
Jonathan Makela, associate dean for Undergraduate Programs
Daniel Shoemaker, associate professor of Materials Science and Engineering
Mariana Silva, teaching associate professor of Computer Science
Jim Stubbins, Donald Biggar Willett Professor of Nuclear, Plasma and Radiological Engineering
Brian Woodard, assistant dean of Undergraduate Programs