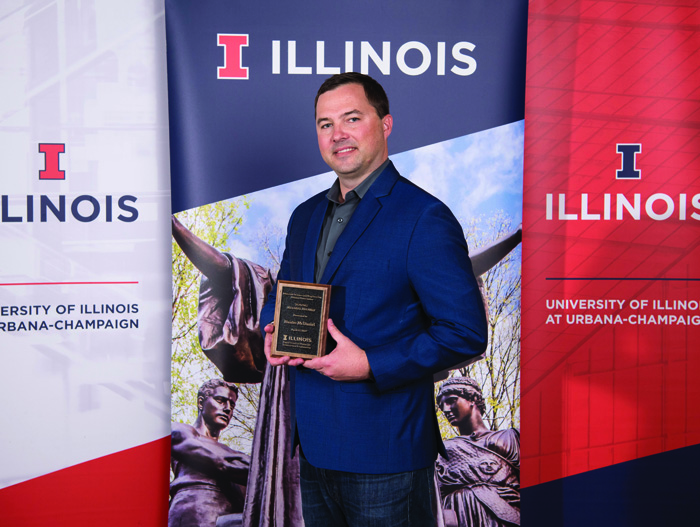 Dr. Hunter McDaniel
BS-EE and Physics UCSB, 2006
PhD-MatSE, 2011
Hunter McDaniel received his PhD from Materials Science and Engineering in 2011. As a graduate student in Moonsub Shim's research group, Hunter was first introduced to the material that would eventually inspire his entrepreneurial spirit – semi-conductor nanocrystals. Prior to coming to Illinois, Hunter received his bachelor's degree at the University of California-Santa Barbara in 2006, double majoring in Electrical Engineering and Physics.
After Hunter left Illinois, he joined Los Alamos National Laboratory as a post-doc from 2011-2014. Upon completing his post-doc, Dr. McDaniel founded UbiQD, Inc. and is currently the CEO.
UbiQD manufactures nanomaterials called quantum dots (QDs) and polymer composites at its facility in New Mexico. QDs are known for their near-perfect ability to convert one color of light into another. UbiQD developed a safe, low-cost, and reliable nanotechnology, and is currently applying it in greenhouses to red-shift the sun's spectrum for improved crop yield.
This platform technology has many applications beyond spectrum-optimized greenhouses, and Hunter's vision is to become the leader of the growing multi-billion-dollar QD industry.
"The big market for quantum dots is in displays. There are about $2.5 million or so TVs being sold with quantum dots in them and maybe $10 billion worth of products on the market with quantum dots. Nanotechnology is here, and it's real."
Hunter says that about 4-5 years ago, quantum dots were an "interesting academic thing," but they weren't in any products yet. Their first use was in lightbulbs and Christmas lights, and now almost every major TV manufacturer has a product using quantum dots.
UbiQD, Inc. figured out a way to make quantum dots, cheaper, more stable, and less toxic than the nascent stage dots. The chosen market for their specific material is agriculture. "It is a simple product we could manufacture roll to roll at scale, and the market is very accessible and growing," says Hunter. "We love ag and dealing with farmers, and greenhouses are just so cool."
Hunter says that the road to a successful business is not an easy one. Building the right team of experts, gaining creditability, and attracting financing requires persistence and the willingness to try and fail.
His advice to aspiring entrepreneurs? "Kiss a lot of frogs and throw a lot of darts. There's a lot of rejection. If you are stubborn or thick skinned, and you can keep pushing, you can get there."