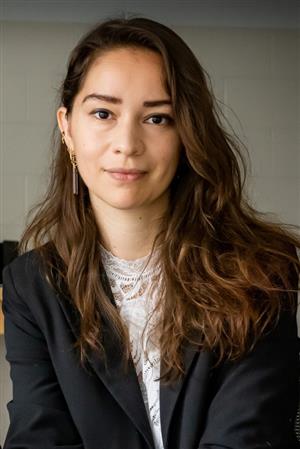 For More Information
Education
M.Eng., Materials and Mechanics - Ecole Nationale Superieure des Mines de Saint Etienne (2013)
M.Sc., Energy, Materials and Processing - Ecole Nationale Superieure des Mines de Saint Etienne (2013)
PhD, Materials Science - Mines ParisTech (2017)
Biography
Dr. Marie Agathe Charpagne was born and studied in France, where she was a first generation college student. She holds a PhD in Materials Science and Computational Mechanics from Mines ParisTech (2016), a Master of Science in Energy, Materials and Processing (2013) as well as a Master of Engineering in Materials and Mechanics (2013) from Mines Saint Etienne. Supported by a fellowship by the French Agency for Research and Technology for her graduate studies , she investigated microstructure evolution mechanisms during high temperature forming in new generation polycrystalline nickel base superalloys. Her work was awarded the Prize for the best PhD thesis by the French Society for Materials and Metals (2017) and she was named a Rising Talent of the Women's Forum for the Economy and Society (2017). The same year, she moved to the United States to work with Professor Tresa Pollock at the University of California in Santa Barbara. During 4.5 years spent there, she developed numerical tools to analyze plasticity and strain localization processes statistically and automatically, in a variety of structural materials under mechanical loading (superalloys, titanium alloys, refractory metals, high entropy alloys). This rich experience gives her unique insights on pathways to optimize materials microstructures -hence forming processes- for improved mechanical properties and durability. She received her NSF-CAREER award in 2023.
Committed to gender equality, she has participated to several conferences dedicated to Women in STEM where she was an invited speaker, including the DEAN's Forum in Paris (2017), Women's Forum in Mexico city (2017) and W.IN Forum in New York (2018).
Aside from science, Marie is an active classical concert pianist and has given over 50 recitals across Europe and the USA. She graduated from the Conservatory of music with the highest honors in 2013 and is a winner of several international piano competitions.
Academic Positions
Postdoctoral researcher - University of California Santa Barbara (Feb 2017-Aug 2021)
Research Interests
3D materials science
Additive Manufacturing
Correlative microscopy
In-situ testing
Mechanical properties
Research Topics
Selected Articles in Journals
Honors
NSF CAREER award (2023 )
American Chemical Society PRF DNI award (2023)
Teaching Honors
Teachers Ranked as Excellent (Fall 2022)
Research Honors
2021 JOM editor's choice for A Multi-modal Data Merging Framework for Correlative Investigation of Strain Localization in Three Dimensions (December 2021 )
Best PhD thesis award - Society for Metals and Materials (SF2M) (2017)
Public Service Honors
"Rising Talent" of the Women's Forum for the economy and society (2017)
Key Reader Award, Metallurgical and Materials Transactions A (2022)
Recent Courses Taught
MSE 404 AD1 (MSE 404 AD2, MSE 404 MP1, MSE 404 MP2) - Metals Processing
MSE 406 - Thermal-Mech Behavior of Matls
MSE 441 - Metals Processing
MSE 595 - Materials Colloquium