Gaining professional growth, life-long friends
Kira Martin, MatSE undergraduate and Keramos president, shares how her involvement in the student organization is strengthening her professional development all the while securing life-long friendships.
Written by Kira Martin
Hi! My name is Kira Martin, and I am an incoming senior at the University of Illinois Urbana-Champaign's Department of Materials Science and Engineering.
As soon as I arrived on campus my freshman year, I was excited to meet new people and be involved on campus. Even before coming to campus, I heard about the close-knit MatSE community from current students.
When my ENG 100 Engineering Learning Assistant, an upperclassman in MatSE, mentioned Material Advantage and Keramos as two undergraduate MatSE student organizations, I knew I wanted to be involved with both.
At the first general meeting of the semester, they announced elections for two freshman representatives. I immediately knew I wanted to run. This was an opportunity to join the executive board of Material Advantage and be able to help grow our MatSE community and help my fellow classmates.
Running for freshman representative is one of the best decisions I made during my college experience, as it has allowed me to be a part of the amazing MatSE community and meet lifetime friends.
During my time as a freshman representative, I learned about the inner workings of MA and Keramos. After being invited to join Keramos during the first semester of my freshman year, I decided to run for the professional and alumni chairperson in the spring. This is a position on the Keramos executive board I held my sophomore year.
My junior year I was elected the vice president of Keramos and, now during my senior year, I will hold the position of Keramos president. Although I have been on the Keramos executive board since my sophomore year, MA and Keramos routinely work together, and I have been closely involved in both organizations since my freshman year.
Hone Professional Skills
Keramos is known for our Play with Clay and professional events. Play with Clay events are held weekly in our ceramic studio in the basement of the Ceramics Building. Here students can slip cast, throw clay on a pottery wheel, hand sculpt a piece or glaze ceramics.
Our professional events allow MatSE students to explore industry and academia while developing their professional skills. Last year's events included professor lunches, resume reviews, industry tech talks and an etiquette dinner. Companies we have worked with include Boeing, Caterpillar, Chevron, CAT, Intel and more.
To join Keramos, you must be a MatSE student with sophomore standing and a 3.0 GPA or higher.
Many students are invited to join their second or third semester on campus, but don't let these requirements stop you from learning about Keramos before then.
Many of our events are open to all. For example, the first few Play with Clay events each semester are open to all students to help new students learn about Keramos and meet Keramos members.
Many of our professional events are open to all students. Stop by our professional events at the start of the semester to prepare for the career fair while learning more about Keramos.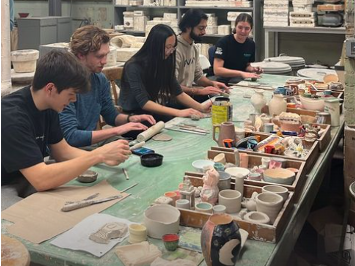 We Can't Wait to Meet You
I hope to see you at Keramos events on campus this fall! The Keramos executive board is working to plan events for you. If you ever have any questions about Keramos or college in general, any executive board member would be happy to help.
We can't wait to meet all the new students! You can follow the Illinois chapter of Keramos on Instagram (@keramos.uiuc) to start connecting with Keramos now.