Curing Respiratory Diseases
Making headway in curing respiratory diseases
Illinois researchers are making headway in curing respiratory diseases like pneumonia to viral infections like COVID-19 and influenza by investigating them in marine mammals for the Office of Naval Research's Undersea Marine Program grant.
Written by Emily Jankauski
URBANA, Ill. — Our graduate students are driven to discover life-altering research. Look no further than Marilyn Porras-Gomez for proof. The doctoral student is working alongside associate professor and Ivan Racheff Faculty Scholar Cecilia Leal to investigate the structure of dolphins' lung membranes, the materials that line the air sacks in mammals' lungs, thanks to an Office of Naval Research's Undersea Medicine Program grant.
These are no ordinary dolphins. Their health and wellbeing are a matter of national security as the mammals have located underwater mines and recovered submerged objects for the U.S. Navy Marine Mammal Program for over a century.
"Just as the police have dogs, the Navy has dolphins and sea lions that help report activity underwater," Leal said.
While the Navy provides these mammals with the very best veterinary care, they still struggle with respiratory diseases, such as pneumonia, as the main cause of illness. This has resulted in a large marine-mammal biobank that's become an invaluable resource for researchers.
That's where MatSE researchers come into play. Leal and Porras-Gomez are working to discover the relationship between the materials properties of the dolphins' lung membranes and the lung disease and function.
Making therapeutic materials
Porras-Gomez holds frequent communication with the U.S. Navy Marine Mammal Program's veterinary scientists regarding the crew's research effort, which began by using lipid-based models.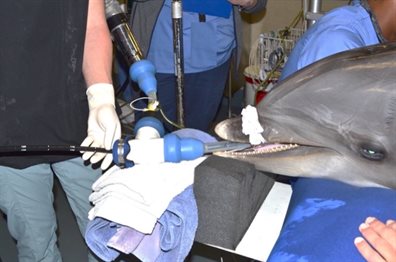 Now the researchers have advanced to working with samples of small pieces of lung tissue and bronchoalveolar lavages, which derive from a minimally invasive procedure where the lung is rinsed with a saline solution and then lung fluids are collected to diagnose respiratory diseases.
The team has put together a membrane characterization using X-ray, Atomic Force Microscopy — a high resolution type of scanning probe — and other techniques to develop a complete picture revealing that these very sick mammals often have one thing in common — changes in lipid composition affecting the structural and mechanical properties of the lung membranes and tissue.
"Once we know all about the disease states, the next step is seeing if we can make therapeutic materials that can help," Leal said. "We are thinking about ways in which we can probably insert in these lungs an artificial lipid pump that could clear out this excess liquid that is causing all the problems."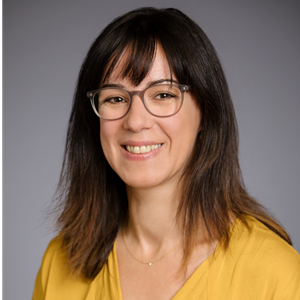 Making the connection
Should the therapy prove beneficial to the dolphins, then Leal believes there's "indication" that a similar therapy could help human lungs, too.
"We are strongly convinced that a lot of the things that we are seeing in these dolphins are going to be present also for humans," Leal said. "If you look at any therapy development, it always starts with an animal model."
Dolphins make the perfect model, according to Leal, because they have very large lungs that must comply with extreme mechanical deformation and stress.
"It's a very excellent model of what lung disease in a human would look like," Leal added.
The potential benefits range from respiratory diseases like pneumonia to viral infections like COVID-19 and influenza.
"Pneumonia is one of the most common causes of morbidity in bottlenose dolphins, but it is also very prevalent in humans, in particular children and the elderly," Porras-Gomez said.
Being able to identify a possible treatment for such devastating diseases and infections using her materials science and engineering know-how isn't lost on Porras-Gomez.
"The scientific knowledge we are producing is filling existing gaps between our knowledge of membrane biophysics and the development of respiratory diseases," Porras-Gomez said. "Hopefully this knowledge will provide platforms towards developing better therapeutics that target the specific mechanisms of disease at the membrane level."
Applying the fundamentals
More than anything, the soon-to-be doctoral grad said she appreciates being able to address this real-world problem from a materials science point of view.
"Something that distinguishes our work is the fact that we investigate these biological samples from the materials science perspective," Porras-Gomez said. "We treat these samples as any other material. We study their structure. We subject them to different forms of stress and study their mechanical response, basically as we would do with any other material such as polymers or ceramics."
The result? A discovery that fundamental materials science can have a global impact on human health.